Four Fun Builds in One BlueBot Robotics Kit!
If giving kids something "to do" is a tradition in your house, consider the multi-use BlueBot robotics kit. With multiple projects and guided directions at Science Buddies, the BlueBot Kit offers plenty of enriching robotics engineering fun to last the entire winter break and beyond!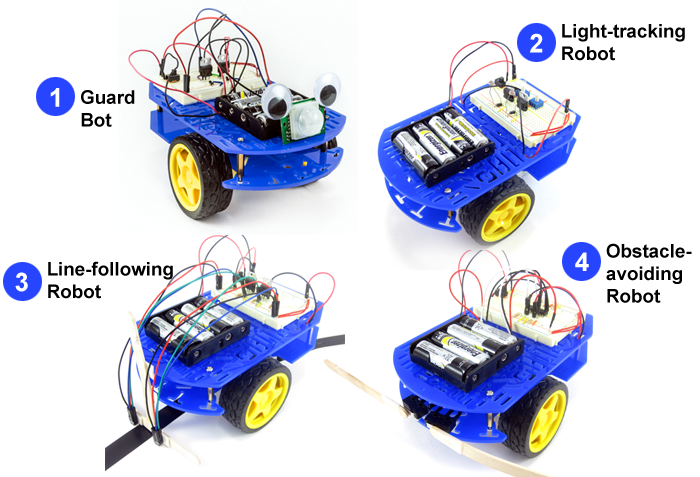 One Kit, Four Robots
The BlueBot 4-in-1 Robotics Kit comes with the electronics parts kids need to build four different robots, each with its own sensor-driven behavior. Which one will be your student's favorite? Try them all and find out!
Science Buddies offers a range of great robotics projects from introductory toothbush-head bristlebots, vibrobots, and junkbots to more advanced light-tracking and solar-powered robots. All of these projects fit into a stepwise continuum of robotics engineering learning, but the BlueBot is a fan favorite for robotics enthusiasts of all ages.
The BlueBot kit is a great choice for students both for school science and engineering projects and just for fun. The kit's bright blue chassis provides the base for an oversized three-wheeled robot. The BlueBot's size makes it a lot of fun. Plus, this isn't a robot that will get lost under the couch in the same way a toothbrush head robot might. The BlueBot also uses larger motors, giving the BlueBot surprising speed, which kids love. This speed is especially exciting in projects like the Motion-activated Guard Robot BlueBot. In addition, BlueBot projects use more sophisticated circuits that the introductory robots. These projects provide a guided but satisfying build for students who are ready to extend their skills with more complicated robotics projects.
A Versatile Kit
The BlueBot: 4-in-1 Robotics Kit contains the specialty materials needed for the following BlueBot robots. Each robot features a different kind of sensor and/or behavior.
Build Now, Science Project Later
BlueBot projects can work both as at-home robotics exploration or as a science or engineering project for a school assignment (depending on the assignment requirements). Your student can build the for core BlueBot models (one at a time) for fun and then come back later to do more in-depth testing of any of the BlueBots for a science project investigation or engineering design project.
To learn about more advanced projects students can do with this kit, see 10 Robotics Projects with the BlueBot Kit.
BlueBot in Action
For an up-close look at the BlueBot 4-in-1 Robotics Kit, see the following posts on the Science Buddies Blog: Build a BlueBot Over Break, Build a BlueBot Guard Robot, and The Obstacle-Avoiding BlueBot.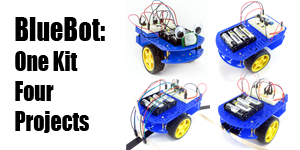 Categories:
You Might Also Enjoy These Related Posts:
Explore Our Science Videos
Will 200 Sticky Notes Hold My Weight?
Bending Plant Roots with Gravity Lesson Plan Introduction
What are the Chances? – A Probability STEM activity