Pair summer celebrations with fun hands-on science ideas! From water bottle rockets to the science behind fireworks and an LED dance party glove, we have suggestions to help light up and launch summer fun!
A Spectacular Display of Summer Science!
The following project ideas and activities fit right in with summer celebrations, fireworks, parades, nighttime fun, and the thrill of launching things like water bottle rockets:
For other fun summer science activities, see Get Ready for Summer Science.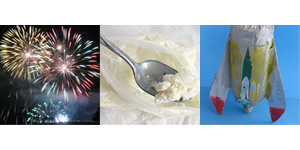 Categories:
You Might Also Enjoy These Related Posts:
Explore Our Science Videos
Cricket Wicket Knockdown: 2020 Engineering Challenge
Measure Static Electricity With An Electroscope!
Liquid Density Column – STEM Activity