12 Great Ideas for Engineers Week
Celebrate engineers and the spirit of engineering by doing a hands-on STEM project or activity with your students! Our list of 12 fun STEM ideas will get you started!

E-Week: Innovative Engineering Projects and Activities for K-12 Students. Hands-on STEM with Science Buddies. www.sciencebuddies.org
Celebrate Engineers Week with Your Students
Our updated Engineers Week collection for 2017 features some excellent choices for student engineering projects and activities at home or in the classroom. The following 12 projects and activities are highlighted in this year's E-Week collection:
Be sure and also explore these collections and project roundups for other inspiring ideas for K-12 STEM!
Learn more about Engineers Week on the DiscoverE website.
2017 Fluor Engineering Challenge
Learn more about the 2017 water flow Fluor Challenge on the Fluor Engineering Challenge website.

Pin this collection:


E-Week: Innovative Engineering Projects and Activities for K-12 Students. Hands-on STEM with Science Buddies. www.sciencebuddies.org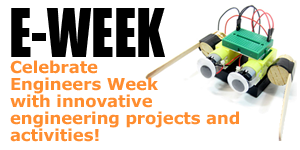 Categories:
You Might Also Enjoy These Related Posts:
Explore Our Science Videos
Make a Model to Explore the Distance from the Planets to the Sun
Squishy Circuits Introduction
Maglev Train Assembly Instructions