Paper Circuits Science Projects
Use these free STEM lessons and activities to explore paper circuits with K-12 students.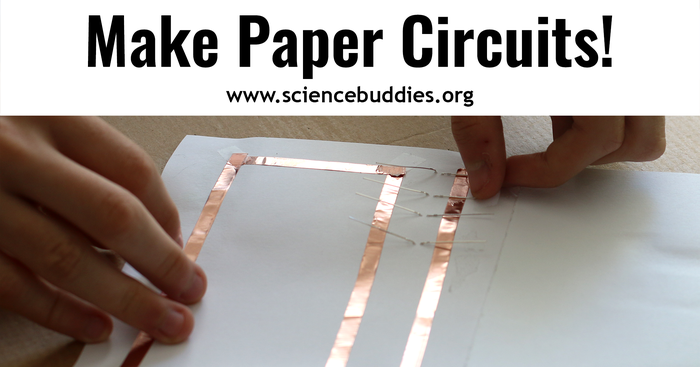 Teach About Circuits!
With "paper circuits," students can learn about circuits and design and build basic circuits on a piece of paper. Paper circuits are great for introducing students to circuits because the materials are simple. With copper tape, an LED, and a coin cell battery, students can assemble a circuit, learn about open and closed circuits, and make an LED light up.
Copper tape or aluminum foil is often used as the "wire" in a paper circuits project, but other conductive materials can be used, including electric paint. Building and testing paper circuits brings circuits to life in ways that are clear and accessible for students. When the circuit is closed, the LEDs will light up. When it's open, they won't!
What kinds of materials can be used for the "wire" in a paper circuit? What kinds of batteries work best? How many LEDs can be lit as part of a paper circuit? What's the difference between series and parallel circuits? What is a short circuit? These are all questions you can explore with paper circuits! Once students understand how their "wire" material works to conduct electricity in the circuit, they can design and make all kinds of interactive paper circuits, including greeting cards, light-up picture frames, storytelling scenes, and more.
Get Started with Paper Circuits
It only takes a few materials to get students started exploring paper circuits. The following STEM resources help guide students in making their very first paper circuits.
Once students understand the concept of building a paper circuit, they can use this approach to creative circuit building in a range of projects. We've linked to some examples below to inspire you!
Paper Circuits Examples
Beyond Paper Circuits
For additional educator resources to teach about circuits and electricity the following educator resource collections:
Projects for Student Exploration
Students interested in electronics, circuit building, engineering design, and exploring the science of electricity may enjoy the following related projects:
Thematic Collections
Collections like this help educators find themed activities in a specific subject area or discover activities and lessons that meet a curriculum need. We hope these collections make it convenient for teachers to browse related lessons and activities. For other collections, see the Teaching Science Units and Thematic Collections lists. We encourage you to browse the complete STEM Activities for Kids and Lesson Plans areas, too. Filters are available to help you narrow your search.
Categories:
You Might Also Enjoy These Related Posts:
Explore Our Science Videos
Build A River Model – STEM Activity
Separating Iron Filings from Sand