Turn learning about STEM careers into a fun online or home learning opportunity for kids with a round of STEM Career Bingo!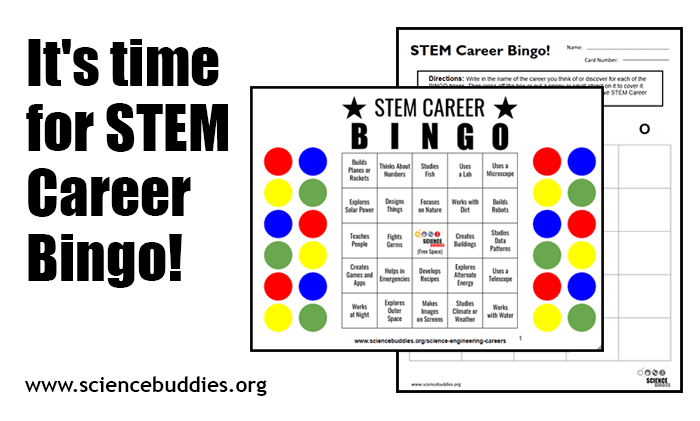 We've been sharing lots of STEM activities that teachers can demonstrate or talk about as part of remote learning or that parents can do at home with kids during these days of widespread school closures.
Doing science activities can be a lot of fun, but if you and your kids are ready for a change, try a game of STEM Career Bingo.
Teachers can make a fun assignment out of STEM Career Bingo, and the game can work well with remote learning setups. Families can also use STEM Career Bingo at home. In addition to helping kids learn about STEM careers, the game uses reading and writing skills and makes "finding" careers to fill in the bingo card fun.
To play:
Each student needs a card. You can have each student print a copy of the card, or you can use Google Drawings to play the game online. (To make it easy and fun to play as a simple interactive game, the Google Drawings file is pre-configured with a set of small circular "markers" students can move around to cover up their bingo card squares.)

Note: To use the Google Drawings card, choose "File / Make a Copy." This will add a copy of the STEM Career Bingo card to your Google Drive. We recommend you create a new copy each time you want to play so that you start with a fresh set up circular markers!

Name the game. Just like in regular bingo, you can set the parameters (or goal) for the game. You might say a bingo can be any vertical column (up and down) or any horizontal row (across) or even a diagonal line. Or, you might specify that for this game, kids need to fulfill a specific kind of line (a horizontal row, for example, only the "G" column, or even "Four Corners"). If you are really ambitious, challenge your kids to a game of cover-all!
Use the Careers in Science area to discover careers that fit the statements. The STEM Career Bingo card has been designed so that multiple careers can fulfill each description. Send your students to the Careers in Science area to find careers that fit each square. Your students may find a range of different careers as they take a scavenger hunt approach to the bingo card. (That's good!)
Have students record their findings. Before they mark off a square on the card, they should write down the career they are using to "fill" that square. Students can use this printable worksheet to record their careers — or just write them down on a piece of paper (or type them into a Google Classroom comment).
Keep finding careers until you BINGO! Use the markers in the interactive file or else cross off or mark the squares on a printed bingo card until you bingo!
Verify the win. In bingo, when someone wins, they have to call back the numbers they crossed off to make sure it's a valid win. For STEM Career Bingo, students should name the square they crossed off and what career they found for that square. (When doing this with a group of students, this is a great chance for other students to hear the names of a wide range of science and engineering careers!)
Note for Teachers
If you are holding real-time classes online using video sharing software, another approach to STEM Career Bingo is for you to share the name of a career and a short description out loud. Students can then find and cross off a bingo square that they think fits for that career. However, since all students (right now) will have the same card, they will probably all bingo at the same time!
To make a copy of the Google Drawings file, you need to open the file in a browser and then choose File / Make a copy and give the file a name to save it to your own Google Drive. You do not need to request permission to edit the file. Instead, please make a copy, as shown here: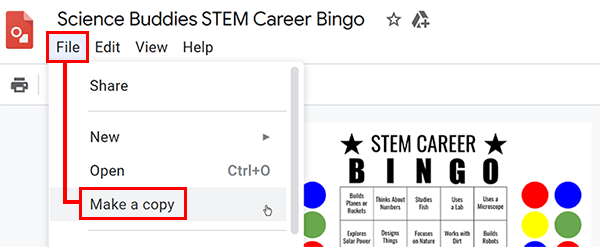 We hope you give STEM Career Bingo a try. Let us know how it goes! Would you like additional cards with different careers to play again or to be able to randomize cards between students?
You Might Also Enjoy These Related Posts:
Explore Our Science Videos
Stretchy Balloons! Fun STEM Activity
Make a Lemon Volcano - Fun Science Experiment
How Train Wheels Stay On Track - STEM activity