Explore the Science Behind Self-Driving Cars
Use these free STEM lessons and activities to help K-12 students think about and experiment with designing and training self-driving cars and autonomous vehicles.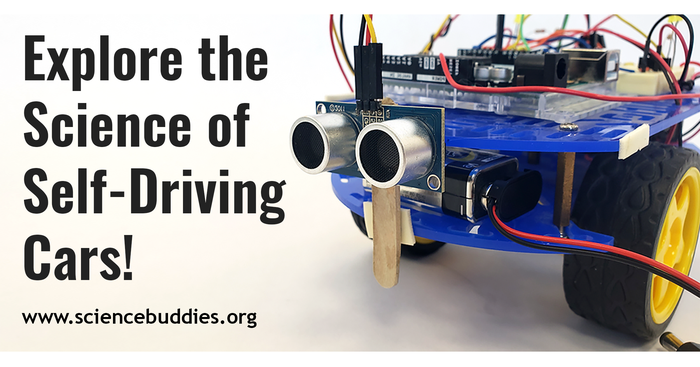 Teach About Self-Driving Cars
Once thought of as something only in science fiction or the future, technologies that support self-driving cars and autonomous vehicles are in development. While fully autonomous vehicles are not yet mainstream, the number of cars being produced with self-driving features is increasing. Your students may even be familiar with seeing self-driving cars in training on the roads!
What is involved in developing and training autonomous vehicles? How is machine learning used in testing and training self-driving cars? How will these technologies improve safety and society? What are the challenges? With accessible, student-friendly science projects and experiments, students can explore these and other science questions about the rapidly evolving field of autonomous vehicles.
Get Started Thinking About Training Autonomous Vehicles
Educators and families can use the following resources to get students started thinking about the science behind self-driving cars.
STEM Activity: How difficult is it to program or train a self-driving car? What are the safety considerations? The How do Self-Driving Cars Know What to Do? activity helps students think about the complexity of the task and the many variables that have to be considered. In the activity, students explore the kinds of decisions a self-driving car has to make and develop a set of directions that a self-driving car could follow. Students will quickly discover that writing an algorithm that takes into account all possible scenarios is complicated. For autonomous vehicles to be successful (and safe), extremely robust algorithms and training protocols are necessary. This activity works well for groups or in the classroom and is a good way to introduce the topic of autonomous vehicles.
STEM Video: The video below provides an overview of using Arduino to turn the BlueBot robot into a self-driving car and can be used as another resource to introduce autonomous vehicles.

Independent Projects and Science Fair Projects
Students eager to take next steps building, training, simulating, and testing technologies related to self-driving cars can experiment with the following projects:
Explore Self-driving Cars & Autonomous Vehicles
Making Connections
For additional educator resources to teach about robotics, circuits, and electricity, see the following educator resource collections:
Thematic Collections
Collections like this help educators find themed activities in a specific subject area or discover activities and lessons that meet a curriculum need. We hope these collections make it convenient for teachers to browse related lessons and activities. For other collections, see the Teaching Science Units and Thematic Collections lists. We encourage you to browse the complete STEM Activities for Kids and Lesson Plans areas, too. Filters are available to help you narrow your search.
Categories:
You Might Also Enjoy These Related Posts:
Explore Our Science Videos
How to Make a Seismograph - STEM Activity
Cricket Wicket Knockdown: 2020 Engineering Challenge
The First Cartoon: Make Your Own Thaumatrope!