18 Lessons to Teach the Science of Sound
Use these free STEM lessons and activities to explore the science of sound.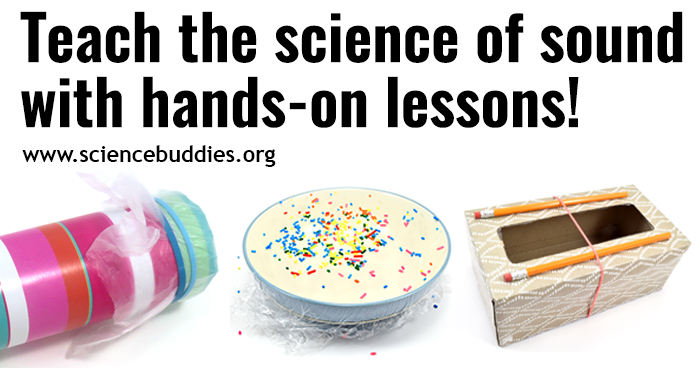 The free STEM lessons and activities below help you teach students about the science of sound, from learning about the relationship between sound waves and vibration to understanding amplitude, frequency, and pitch. In these activities, students can experiment with sound waves by building and testing a variety of simple instruments and noise makers, including rubber band guitars, harmonicas made from craft sticks and straws, cardboard tube kazoos, cut straws, and more. Various containers filled with water, CO2, or, even nothing (a vacuum) can be used to create hands-on opportunities to investigate sound science, including resonance, the decibel scale, and the absorption, reflection, and transmission of sound through different materials. What is the Doppler effect? What are the parts of a sound wave? How can we visualize and measure sound waves? What happens when the frequency of a sound wave increases or decreases?
As students learn about pitch, frequency, and how sound travels, they can also investigate the typical frequency range for human hearing compared to other animals and ask questions about ultrasonic hearing, echolocation by animals in water (like dolphins) and out of water (like bats), the speed of sound (in various mediums), what sound energy is, and what it means for something to be supersonic or to create a "sonic boom."
Although there is overlap, the lessons and activities below have been grouped as follows to help educators select the experiments and lessons that best fit their needs:
For key terms to review with students, see the list of vocabulary words at the bottom of this resource.
Note: for more information about the various "types" of resources available, see Understanding Science Buddies' Resources.
Lesson Plans, Video Lessons, and STEM Activities to Teach About the Science of Sound
Sound Waves and Vibrations
Frequency and Pitch
Decibels, Amplification, and Volume
Absorbing, Reflecting, and Transmitting Sound
In the Can You Hear Sounds in Outer Space? project, students investigate how sound intensity changes with decreasing air pressure. If there is no medium for a sound wave to travel through, what happens to the sound? What does this have to do with space? Students explore by creating a vacuum to simulate conditions in outer space and then use a sensor-based phone app to measure the sound intensity of a buzzer. Questions to ask: What mediums can sound waves travel through? Why do sound waves not travel effectively in space?




In the What Do You Hear Under Water? activity, students investigate how sound travels through water and how this changes how we experience underwater sounds. Questions to ask: Does water transmit or absorb sound? Why do sound waves travel faster in water? Do humans hear underwater the same as other animals?




In the Block That Noise! project, students learn about the ways in which sound waves are reflected, absorbed, or transmitted by different materials. In the lesson, students use what they learn about absorbing sound to build sound-insulating containers big enough to hold a phone. With the phone inside, they use a phone app to see how effectively their containers absorb sound. Questions to ask: What materials effectively absorb sound and make good sound insulators? What happens to sound waves to make a sound echo in an enclosed space?



Vocabulary
The following word bank contains words that may be covered when teaching about sound using the lessons and activities in this resource.
Amplitude
Amplifier (Amplification)
Compression
Decibel (dB)
Doppler effect
Eardrum
Echolocation
Frequency
Hertz (Hz)
Logarithmic
Longitudinal wave
Loudness
Mechanical wave
Medium
Membrane
Note
Pascal
Pinna (pinnae)
Pitch
Pressure wave
Rarefaction
Resonance
Resonant frequency
Ruben's tube
Sonar
Sound
Sound energy
Sound intensity
Sound pressure level (SPL)
Sound wave
Speed of sound
Transverse wave
Vibration
Volume
Wavelength
Thematic Collections
Collections like this help educators find themed activities in a specific subject area or discover activities and lessons that meet a curriculum need. We hope these collections make it convenient for teachers to browse related lessons and activities. For other collections, see the Teaching Science Units and Thematic Collections lists. We encourage you to browse the complete STEM Activities for Kids and Lesson Plans areas, too. Filters are available to help you narrow your search.
Understanding Science Buddies' STEM Resources
Lesson Plans contain materials to support educators leading hands-on STEM learning with students. Lesson Plans offer NGSS alignment, contain background materials to boost teacher confidence, even in areas that may be new to them, and include supplemental resources like worksheets, videos, discussion questions, and assessment materials.
Video Lessons include NGSS alignment and offer a plug-and-play option for teaching a STEM lesson. Each Video Lesson asks a science question, teaches students about the relevant science, and guides students in a hands-on experiment that will help them answer the question. Video Lessons are NGSS-aligned and bring core science concepts to life with storytelling, animation, and photos using a self-paced engage, explore, and reflect format.
Activities are simplified explorations that can be used in the classroom or in informal learning environments.
Projects are written to support students doing independent science projects or science fair projects. Projects can be adapted for classroom use.
Categories:
You Might Also Enjoy These Related Posts:
Explore Our Science Videos
How to Make a Seismograph - STEM Activity
Cricket Wicket Knockdown: 2020 Engineering Challenge
The First Cartoon: Make Your Own Thaumatrope!