STEM at Home for Winter Break
School may be out for Winter Break, but Science Buddies has plenty of awesome science, technology, engineering, and math activities to keep kids inspired and excited at home! Give your kids great "to do" options for a fun and engaging Winter Break.

Set Them Up with Engaging Science Activities at Home
The winter break from school is a great time for hands-on activities with the kids. Spend family time exploring something scientifically cool, or set your kids up with a few materials and a great project they can do on their own. They'll have fun, and they'll learn something, too!
The winter break can seem short in spots but long in others, and having a great "to do" activity is always a good plan for an antsy indoors day. My students always enjoy projects that let them explore with their hands, be creative, and end up with something they can show off. Building-oriented projects like robotics, paper circuits, and electric play dough have been popular in my house, as have quasi-craft-oriented explorations like Sharpie tie-dye and sewn circuits. If it lights up or you can eat it, all the better!
Here are my top picks for this year's Winter Break:
For other suggestions of great hands-on STEM projects and activities your students may enjoy, see the Creative Science and Engineering for Kids collection.
Pin this collection: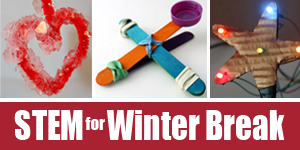 Categories:
You Might Also Enjoy These Related Posts:
Explore Our Science Videos
Light-Tracking Robot: BlueBot Project #2
Science Buddies: Hand Warmer Chemistry
Balloon Car: 2015 Engineering Challenge