Cybersecurity Lesson Plans
(1 result)
Personal messages, photos, banking information, credit card numbers, names, addresses, health records—a lot of your family's private information is stored on computers and zipping through the Internet! Cybersecurity is the act of keeping information, ranging from embarrassing baby photos to national secrets, private and viewed by only the right people.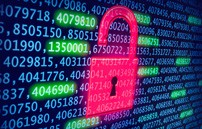 Lesson Plan

Grade: 6th-8th

NGSS Performance Expectations:

MS-ETS1-3

. Analyze data from tests to determine similarities and differences among several design solutions to identify the best characteristics of each that can be combined into a new solution to better meet the criteria for success.

MS-ETS1-4

. Develop a model to generate data for iterative testing and modification of a proposed object, tool, or process such that an optimal design can be achieved.
Explore Our Science Videos
Paper Bridges STEM Activity
Is the Egg Raw or Cooked? STEM activity
Harvest Water from Fog Science Project