Playing with Balance: Doing Fun Science at Home during School Closures (Activity #14)
Follow along with a Science Buddies parent who is using family STEM activities to keep her kids learning at home during the COVID-19 school shutdown. New posts every Monday, Wednesday, and Friday. Today's adventure...building and balancing a creative mobile.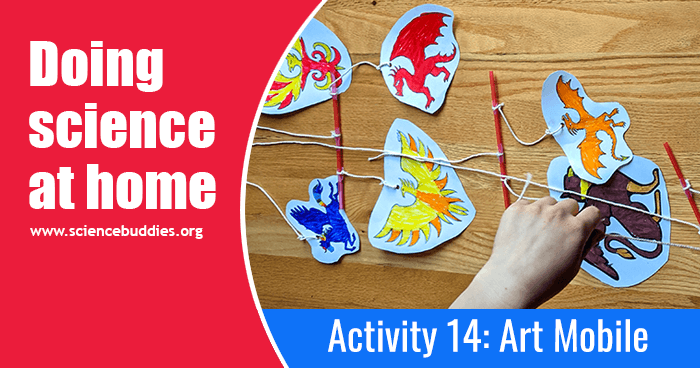 A Balancing Act
I have a half-dozen one-liners running through my head about how there is no "balance" for parents in today's pandemic world. I'll spare you though — you can probably imagine them all yourself.
Puns and memes aside, balance is a topic that kids are intrinsically interested in. They play physical balance games like standing or hopping on one leg, walking with an object balanced on their head, learning to bike or skateboard, and balancing a spinning basketball on one finger. They play balance board games like Topple and Jenga. And in my house, they risk all the dishes, and the wrath of mom, by carrying just-barely-balanced piles of dishes to the sink as they hurry to get done with their table-clearing chores.
So, it's no surprise that science activities about balance are fun. They are also highly educational. They give kids a framework to explore a real-world concept and understand that balance is all about the distribution of mass. Here are a few balance-related activities which are sure to entertain and educate:
My Pick of the Day: Making an Art Mobile
I started off the day with a long list of must-do's on my work-from-home list, which meant that to maintain family balance (sorry, I tried to resist the pun, but...) I needed an activity that would occupy my second-grader, on her own, for a large chunk of time. I had filed away the Balance the Forces Within a Mobile activity for just such a moment.
First, I needed my daughter's buy-in. So out came the video:
After watching the video together, I made my pitch: "You don't have to use shapes; your mobile can have any theme you want." This piqued her interest, and fifteen minutes of Google searching later, we had nabbed and printed out on cardstock the outlines of ten fantastical beasts. That's right — her mobile was going to be full of dragons, gryphons, phoenixes, unicorns, and pegasi.
The next step, coloring, is where I bought myself work-time. Since it was such a beautiful day outside, a real gift in our corner of the drizzly Pacific Northwest, my daughter was content to color rainbow manes and dragon scales outside on a picnic blanket for a solid two hours. If you've been following along on our science journey, you might remember that I also used this "decorate it" trick to gain work time on our kite-making day .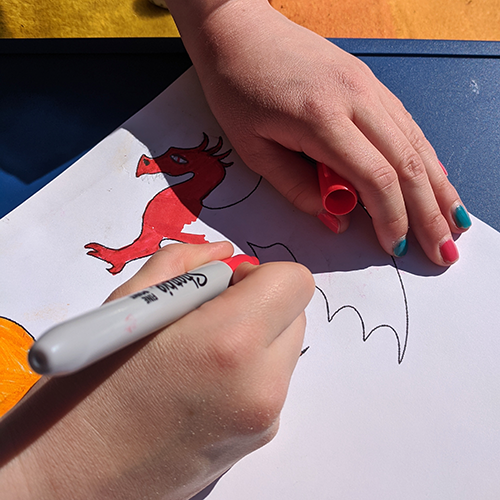 After coloring the images, it was time to cut them out. Neither of us was keen to do the tedious task of cutting on the lines, so we opted to cut a general shape around each creature. This she could do on her own, but the string-tying steps that followed required a significant amount of parental involvement.
She cut string while I tied it to the straws (materials note: you could easily substitute bamboo skewers or even sticks for the straws). Then I held up each string/straw combo for her to adjust the straw until it balanced perfectly from the string.
After taping all the string/straw combos in place, it was time to tie on the creatures. Again, I did the tying and then held up each straw for my daughter to slide the suspended creatures along either end of the straw until they balanced.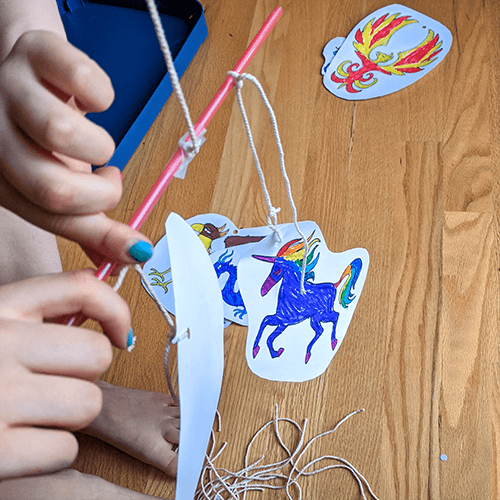 While she balanced her fantastical creature cutouts, we talked about what she was noticing. Why was it that some creatures needed to be closer to the center of the straw than others? It didn't take her long to grasp that the heavier creatures needed to be slid closer to the center to balance the lighter creatures. I was also able to connect this with her experience of playing on a seesaw with her older brother, which nicely reinforced the science lesson.
Finally, when all the creatures were attached, my daughter laid each segment of the mobile on the floor and arranged them in the order she wanted. I tied them all together and anchored all the strings in place with tape.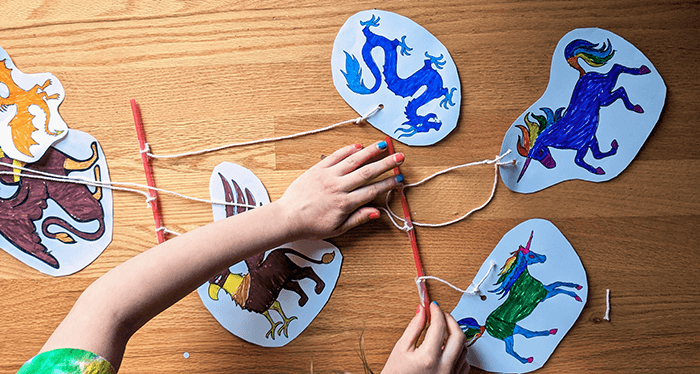 All the tying and balancing took about an hour. In the end, the mobile was much larger and more elaborate than I'd originally imagined, but my daughter absolutely loved it. Tomorrow's task is finding a place to hang it in her room! For now, we've left it on our front door for the neighbors to admire on their daily quarantine strolls.

If your kids make art mobiles, or try any of the other balancing activities, post a picture of their experiment on social media and tag us. You can find us at Twitter, Facebook, and Instagram.
If this blog post was useful to you, please share it with other parents. Follow the links below to see what other science adventures we've been having at home.
View All Posts in this Series
Activity 14 - Balancing an Art Mobile
A science activity log is available as a Word document or as a Google doc for online convenience. (Just choose "File/Make a copy" to save it to your Google Drive.)
About the Author
Sandra, Science Buddies' Vice President of STEM education, holds a PhD in Genetics from Stanford University and has spent the last twelve years working on science education and STEM outreach. Right now, she's stuck working from her home in the Pacific Northwest with her husband, second grader, middle schooler, and two oddly noisy gerbils. She hypothesizes her sanity will hold as long as she gets a daily dose of sunshine.
Categories:
You Might Also Enjoy These Related Posts:
Explore Our Science Videos
How to Make Magnetic Slime
Write and Read Braille – STEM activity
Make a Whirlybird from Paper