Adding Art: Doing Fun Science at Home during School Closures (Activity #6)
Follow along with a Science Buddies parent who is using family STEM activities to keep her kids learning at home during the COVID-19 school shutdown. New posts every Monday, Wednesday, and Friday. Today's adventure...food dye, shaving cream, and a bit of cool science transform paper into beautiful marbled art.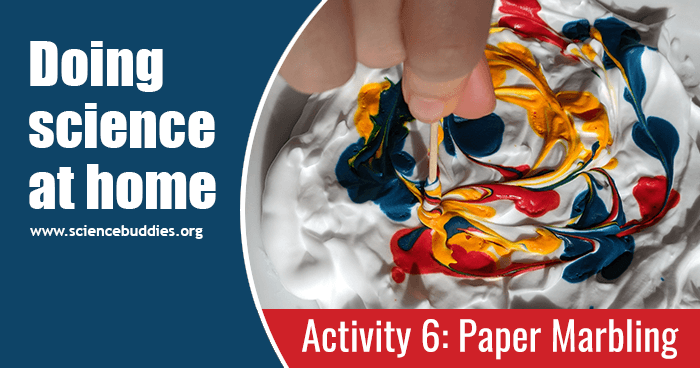 Artists are Scientists, Too
My kids love art. Drawing, painting, clay — all these things bring them joy. On the other hand, while I like many crafts, I wouldn't call myself artistic. (When it comes to pencils or paint brushes, stick figures are my comfort zone.) Yet, as a scientist, I recognize that artists are also scientists.
Experimenting is an enormous part of the creative art process. To innovate and master their craft, artists spend hours and hours trying out different variations on techniques and mediums. A good artist often has in-depth knowledge about the scientific properties of the art supplies they use, whether that is different types of paint or glass, metal, clay, paper fibers, etc.
All of this means that if you have a child that enjoys art, that may be the perfect avenue for them to also get hands-on with science. Here are a few activities that blend art and science and result in fun processes and products:
My Pick of the Day: Paper Marbling
For me, one of the silver linings of this school-from-home period is the opportunity to blend different subjects for my children. I feel that doing activities that blends subjects illustrates how interconnected subjects are in the real world. This is exactly why I chose to do the Make Marbled Cards Using Science! activity with both of my kids.
As I've said, they love art, so I knew they'd be on board with the activity from the get-go. My larger mom-plan though was that this would be an art-science-English combo. Do the art, understand the science behind the artistic media, and then write and send out the cards we made. My middle-schooler says it was an "evil, but kind of good plan"; I prefer to think of it as brilliant.
We watched the video together, gathered our supplies, and, once I covered the table in a mess-proof tablecloth, dove right into the activity itself. My second-grader was hooked as soon as she started piling shaving cream onto her plates. Being allowed to freely squirt, squish, and smooth the foam was a treat for her.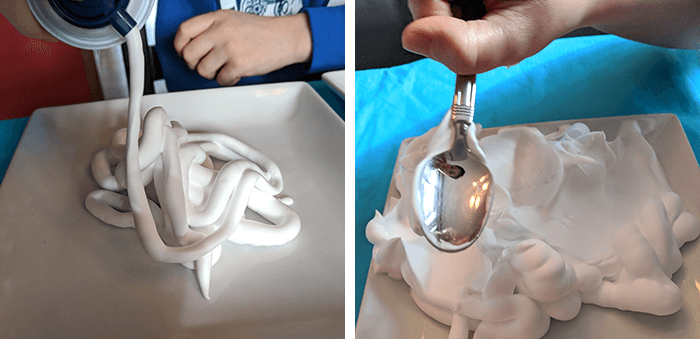 After filling the plates with shaving cream, they added drops of food coloring and then used toothpicks to carefully swirl the food coloring into the shaving cream.
Both kids worked diligently to get their color palettes and swirls just the way they wanted them. Along the way, we talked about whether the food dye was really mixing with the shaving cream or just sitting on its surface.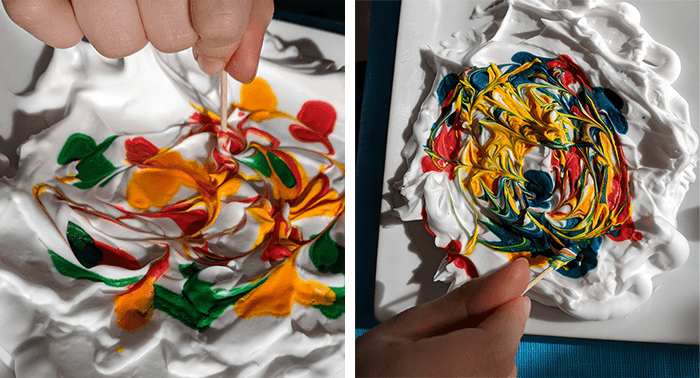 Then came the fun of pressing the first card down on top of the colorful mixture, lifting it back off, flipping it over, and scraping away the excess shaving cream to reveal their creations.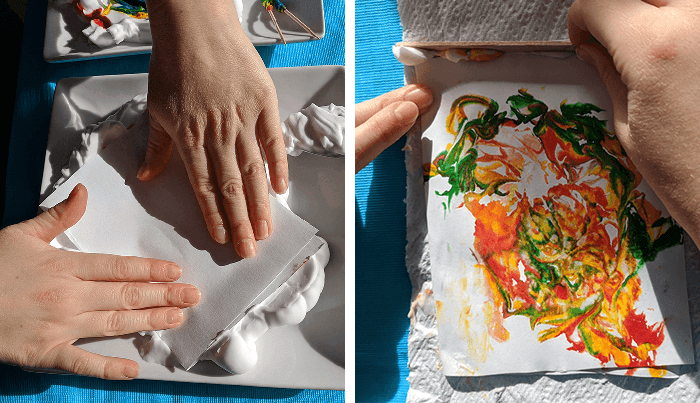 My middle schooler was more methodical about his exploration, but both kids experimented to see what adding a few squirts of water did and whether or not it worked to re-print from the same shaving cream and food-dye mixture. Despite the age difference, both got a clear understanding that the food coloring mixed with water but not the shaving cream. We even tossed around the terms hydrophobic and hydrophilic. (Don't worry — these are explained clearly in the Explore More section of the activity.)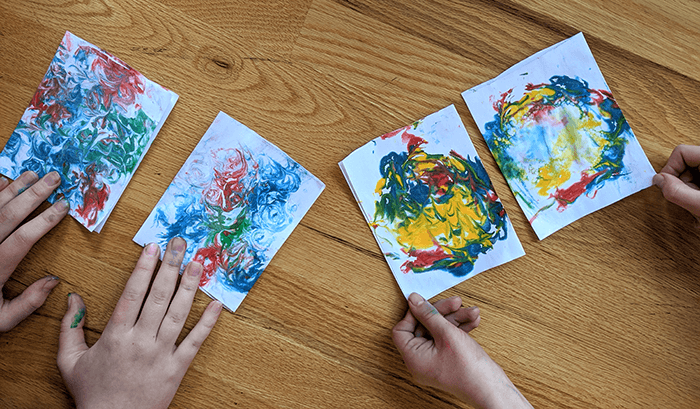 When she was done making cards, my youngest added her own exploration — mushing up all the shaving cream and food coloring with her hands. She loved every moment of this messy play. It also ended up illustrating the whole science concept in a surprising way. When she went to wash her hands and plate in the sink, she observed that the tap water carried away the brown coloring she'd created on the shaving cream, leaving mounds of white shaving cream in the sink. So, the food coloring really didn't mix with the shaving cream! It washed right off in water.

Overall, this science activity was a huge success with a beautiful end-product that we'll be mailing out to friends and family later this week.
If your kids try making marbled paper cards or try another art-science combo activity, I'd love to hear how it goes. If you do, or if you have questions or comments, drop me an email.
If this blog post was useful to you, please share it with other parents. Follow the links below to see what other science adventures at home we've been having.
View All Posts in this Series
Activity 6 - Paper Marbling
A science activity log is available as a Word document or as a Google doc for online convenience. (Just choose "File/Make a copy" to save it to your Google Drive.)
About the Author
Sandra, Science Buddies' Vice President of STEM education, holds a PhD in Genetics from Stanford University and has spent the last twelve years working on science education and STEM outreach. Right now, she's stuck working from her home in the Pacific Northwest with her husband, second grader, middle schooler, and two oddly noisy gerbils. She hypothesizes her sanity will hold as long as she gets a daily dose of sunshine.
Categories:
You Might Also Enjoy These Related Posts:
Explore Our Science Videos
How Much Weight Can Boats Float?
Test Your Foods for Starch
How to Build a Unicorn Art Bot