High-flying STEM (Awesome Summer Science Experiments)
Check in each week at Science Buddies this summer for our Awesome Summer Science Experiments series! Each week, we'll highlight a few activities for awesome science and engineering kids can do at home. We've got a whole summer of fun STEM themes lined up for kids of all ages — for free. This week: awesome summer science experiments that take to the skies!
Awesome High-Flying Science
Launching, throwing, blasting off, and sending things flying high into the sky can be fun for all ages. This week, we've got you covered with simple high-flying Awesome Summer Science Experiments that let kids experience the thrill of launching and flying with activities that are easy to do at home.
Independence Day (July 4) in the U.S. happens this week. While fireworks and the science behind their colors (see our 4th of July "rainbow fire" science experiment) can be lots of fun to explore, this week's Awesome Summer Science Experiments theme takes to the skies with activities that will fit right in with celebrations but are also fun anytime!
The activities in Week 4 of our Awesome Summer Science Experiments series feature various kinds of rockets, homemade kites, and a fun way to give your paper airplanes added oomph.
Awesome Summer Science Experiments Week 4: Experiment | Watch | Ask | Explore | Read Celebrate |
EXPERIMENT: High-Flying Science
WATCH: Videos
ASK: Questions
Use these questions to prompt conversation and reflection about the science behind this week's Awesome Summer Science Experiments activities:
When designing rockets or other similar shaped objects, what role might fins play?
How does the force of drag affect these activities?
What determines how high a paper rocket will fly?
What kinds of energy are used in the paper airplane launcher activity?
EXPLORE: STEM Careers
After trying this week's summer science experiments, kids can learn more about related science and engineering careers, like:
READ: Books
Pair picture and story books like these with this week's Awesome Summer Science Experiments explorations.
For more suggestions for science-themed summer reading, see our Summer Reading List. Also, don't miss this roundup of creative STEM activities for storytelling and imaginative play.
CELEBRATE: 4th of July STEM
What creates the colors we see in fireworks? With the Discover the Flaming Colors of Fireworks activity and the Rainbow Fire Kit, you can safely explore the science behind fireworks at home! Following the activity directions, skewers dipped in the chemicals can be lit to see the different colors produced as different chemicals burn. What is your favorite color of fireworks? What chemical might create that color when burned? (Adult supervision required.)
Bookmark Awesome Summer Science Experiments Week 4: High-Flying STEM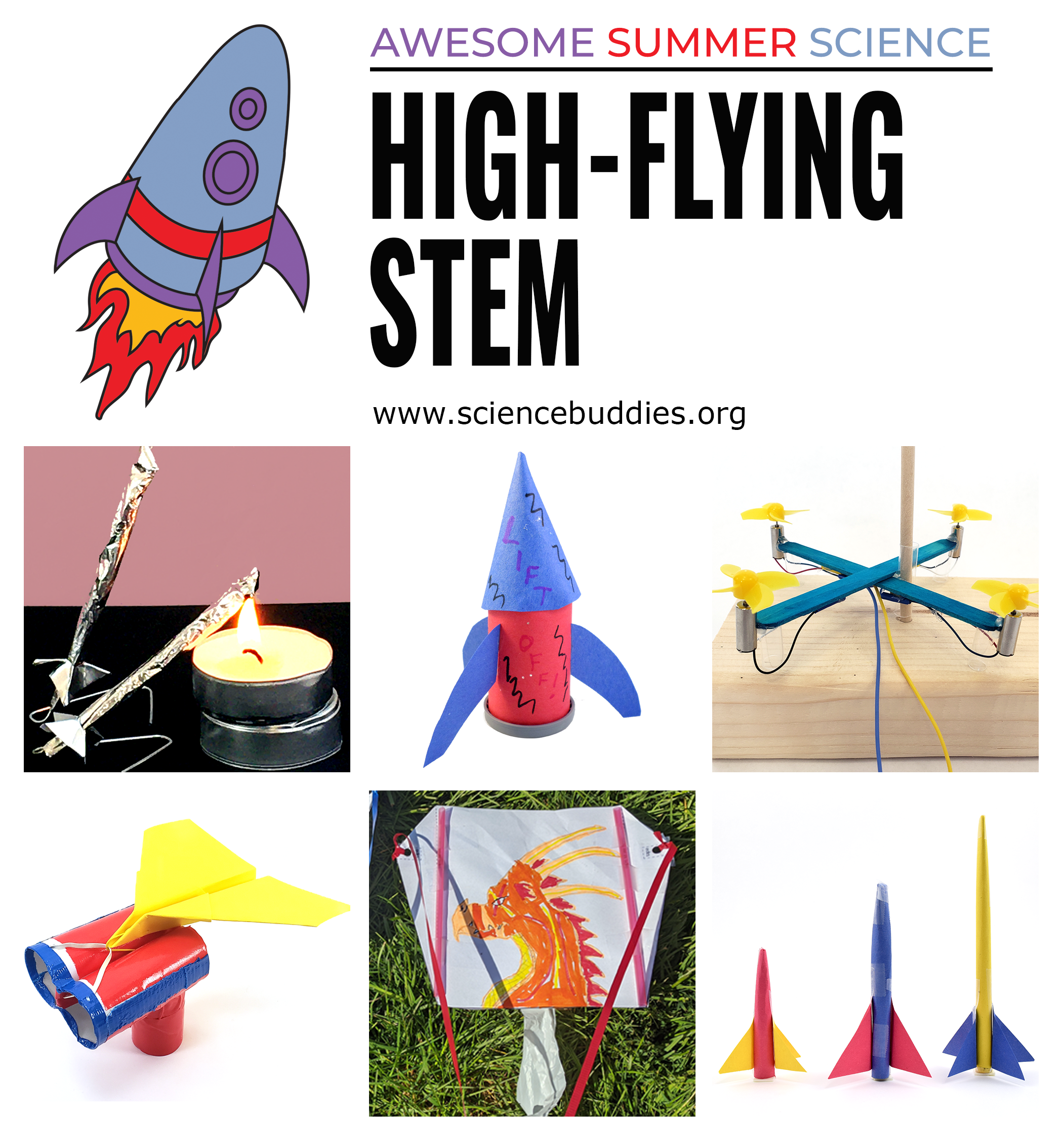 10 Weeks of Awesome Summer Science Experiments
Week 4 - High-Flying STEM
Follow the full summer series on the Awesome Summer Science Experiments page!
Categories:
You Might Also Enjoy These Related Posts:
Explore Our Science Videos
Marble Roller Coaster Science Project
Video: How to Balance Anything