Taking Flight: Doing Fun Science at Home during School Closures (Activity # 2)
Follow along with a Science Buddies parent who is using family STEM activities to keep her kids learning at home during the COVID-19 school shutdown. New posts every Monday, Wednesday, and Friday. Today's adventure… kite building — a fun art and science combo for all ages.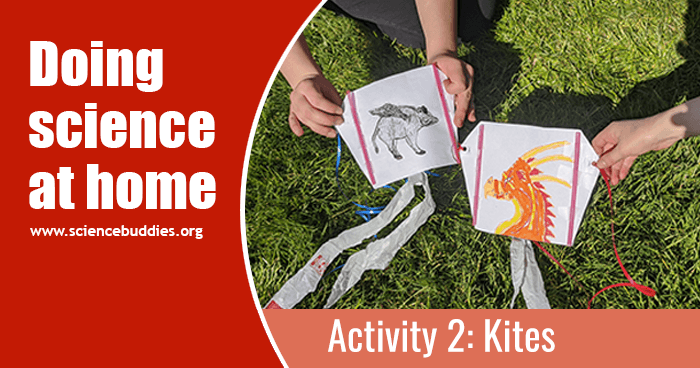 Things That Fly are Fun
As soon as I started thinking about what do with my kids during our school closure, I knew that making things fly was going to be on the list. Kids, at least mine, like to make things hurtle through the air. Want them to pass you a sweater from the upstairs closet? "Here mom. Catch!" as it flies through the air towards your head. So, what could be more fun than not just being allowed but actually encouraged to make things fly?
The flying science activity you pick may be constrained by the spaces available to you at the moment. Here are a few options to choose from:
My Pick of the Day: Kite Building
Looking through my options for "flying" science, I settled on the How Tails Help a Kite to Fly activity. It involves printing out a template for a sled kite (a type of beginner kite that needs little to no wind), decorating it, reinforcing it, adding string, and then experimenting with how well it flies under different conditions.
I had a busy morning of work calls scheduled, and I needed something that would take a while and that even my second-grader could do without me. This activity was a win! Both my kids — yes, the seventh-grader, too — jumped on this activity and spent over an hour engrossed in designing their kites.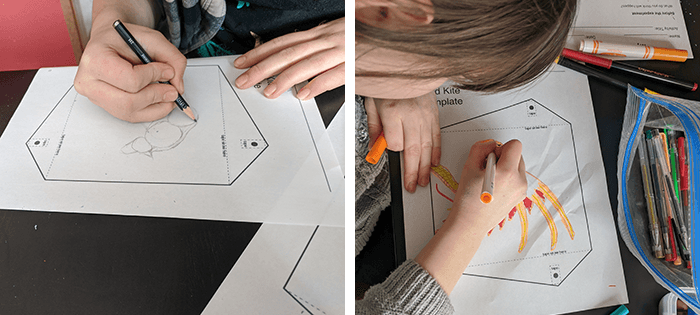 Once the artistic part was done, it took just a few minutes to cut and assemble the kites.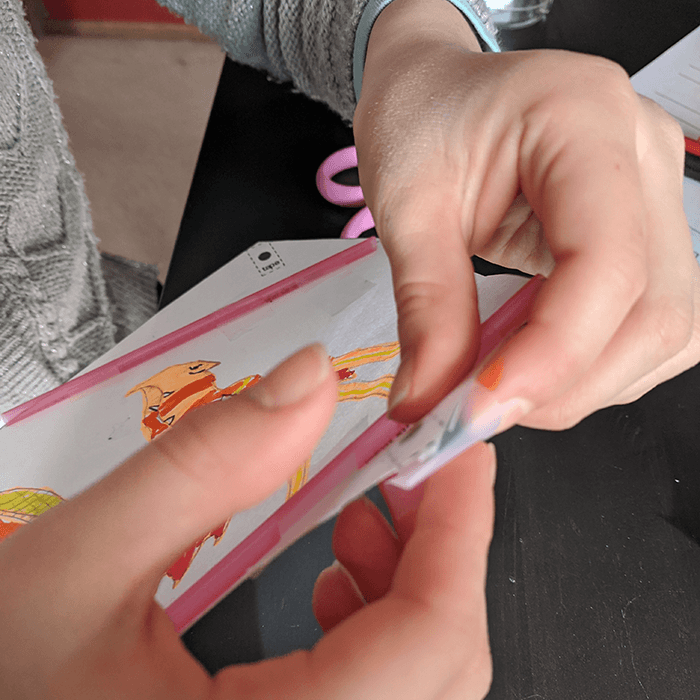 I had a moment of panic when I looked at the directions again and saw that kite string was recommended. No kite string in the house.... But hey, experimenting is what we're doing, so after a thirty-second brainstorm, we decided to try curling ribbon (the kind you tie around presents and curl the ends) since it is also lightweight. It worked like a charm and was a good reminder that substituting is sometimes necessary and often works.
We took our fully built kites outside to an empty field in walking distance from our house, along with the tape and cut-up plastic bag needed for making a tail.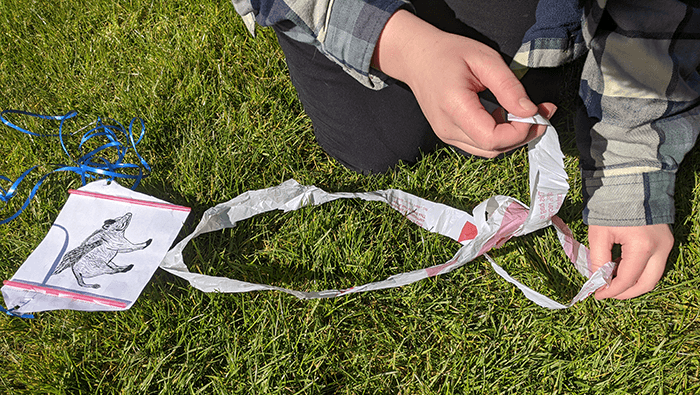 There wasn't much wind, but it didn't matter. This kite type works in low-wind conditions, and running with them (once the tail is on) is enough to get some entertaining flight. I knew that the kite would fly better once we got a two- or three-foot-long tail on there, but I was pleasantly surprised by how much difference it made and how much fun it was to play with. My kids even took them out several days later to play with again — huge mom-win!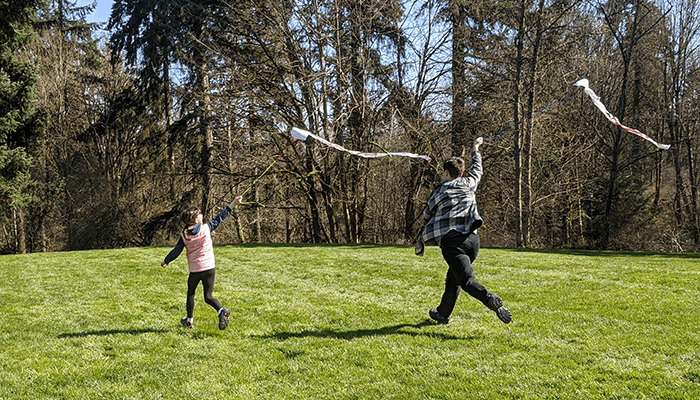 I hope you and your kiddos enjoy one or more of these flight activities, too! If you have questions, comments, or if you are starting your own science at home adventure, send me an email and let me know. I would love to hear what you have planned and what fun science you try at home with your kids.
If you want to see how my science at home adventure started, check out the first post. And if this blog post was useful to you, please share it with other parents.
View All Posts in this Series
Activity 2 - Taking Flight with Kites
A science activity log is available as a Word document or as a Google doc for online convenience. (Just choose "File/Make a copy" to save it to your Google Drive.)
About the Author
Sandra, Science Buddies' Vice President of STEM education, holds a PhD in Genetics from Stanford University and has spent the last twelve years working on science education and STEM outreach. Right now, she's stuck working from her home in the Pacific Northwest with her husband, second grader, middle schooler, and two oddly noisy gerbils. She hypothesizes her sanity will hold as long as she gets a daily dose of sunshine.
Categories:
You Might Also Enjoy These Related Posts:
Explore Our Science Videos
Build a Self-Driving Arduino Car
Colorful Melting Ice Ball Patterns - STEM Activity
Measure Static Electricity With An Electroscope!