Rev Up STEM Learning with Car Science Projects
Use these free STEM lessons, experiments, and activities to teach science and engineering related to cars and to explore core science concepts with homemade cars.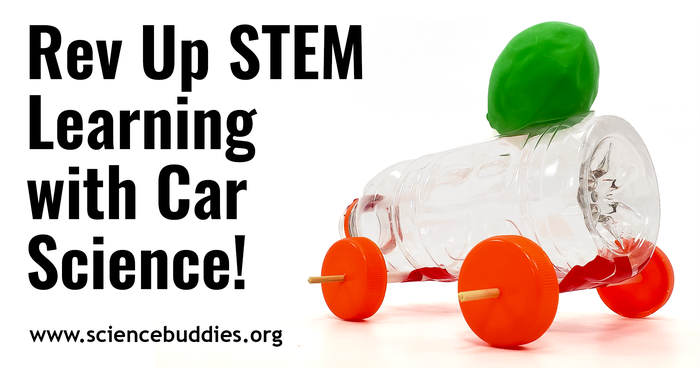 Rev Up STEM Learning — Car Science Experiments for Science Class and Science Fair
Educators can use DIY cars made from simple materials to teach students about science and engineering related to the design, building, testing, and safety of cars and to demonstrate and explore general science concepts in K-12 classrooms.
Homemade cars open up a wide range of science questions your students can investigate with hands-on science and engineering projects. From questions related to the engineering and design of actual cars and car systems to using homemade cars to investigate other science concepts, making simple cars gives STEM learning extra gas. Use the lessons, projects, and activities below to teach about physics and electronics; potential and kinetic energy; Newton's laws of motion and forces of motion; alternative energy and power; engineering design; autonomous vehicles; braking, gears, and differentials; and more.
This resource contains experiments that teach about car science and activities that use DIY cars to help teach about other science concepts. The resources have been grouped as follows:
At the bottom of this resource, you will find related STEM careers for students who are interested in engineering and automotive manufacturing, a list of key vocabulary words, and additional related resources. For students looking for science projects, we have also included a list of independent science and science fair projects.
Note: Science Buddies Lesson Plans contain materials to support educators leading hands-on STEM learning with students. Lesson Plans offer NGSS alignment, contain background materials to boost teacher confidence, even in areas that may be new to them, and include supplemental resources like worksheets, videos, discussion questions, and assessment materials. Activities are simplified explorations that can be used in the classroom or in informal learning environments.
Resources for STEM Learning with DIY Cars
Demonstrating Science Concepts with Simple DIY Cars
Simple cars made from craft and recycled materials, including cardboard, compact discs, balloons, rubber bands, straws, plastic lids, and more, can be great tactile models to use for science experiments. With DIY cars, students can explore potential and kinetic energy, forces of motion, Newton's laws of motion, and other science curriculum. Even as they use their cars to investigate science concepts, students will also need to use engineering design skills to adjust and troubleshoot their cars for maximum performance. They may need to examine the role and function of the axles, the position of the wheels, and the importance of balance in a car's design.
Tip: Are you struggling to make the connection between cardboard cars and real cars? How do balloon- and rubber band-powered cars relate to real-world cars that use gasoline? With these DIY cars, a source of potential energy is used to store energy that will be converted to kinetic energy to move the car. In a real car, gasoline (or battery power) is converted to kinetic energy for the same purpose.
Exploring Car Parts and Systems with DIY Cars
When students experiment with homemade cars, they get hands-on with the engineering design process to design, build, test, and iterate. In this process, they explore the skills used in a range of automotive and engineering careers. By changing design features and testing and comparing different models of their DIY cars, students can ask and investigate a number of STEM questions, make changes to improve their cars, observe the importance of iteration in the engineering design process, and learn more about how cars are built and what goes into making cars run efficiently and safely.
The video above covers some of the variables that can be changed in a car science project. Every car has four main parts: wheels, axles, chassis, and power source. Students can choose any of these features and develop a science or engineering project around it. For example, what happens when you use different materials for the wheels? What if the wheels are a different size or shape?
Machine Learning and Self-Driving Cars
Autonomous vehicles are already becoming a familiar part of roadways. You can explore the concept of self-driving cars and the technologies being used to train them with projects and activities that have been specifically developed for use with K-12 students.
What is involved in designing, building, and training autonomous vehicles? What is machine learning, and how is it used in testing and training self-driving cars? What will it take for consumers to trust these vehicles on the road? How might these technologies improve road safety? What are the challenges? As more and more autonomous vehicles begin appearing on roads, there are all kinds of questions to be asked and explored. We have science projects to help students dive in and experiment with the science and technology related to this rapidly evolving field of autonomous vehicles. Topics include the use of sensors, automatic braking, machine learning, and more. See the Explore the Science Behind Self-Driving Cars resource collection for specific projects and activities.



Have Fun with Car Science!
Whether students are doing science projects following the scientific method or brainstorming, prototyping, and testing innovative solutions using the engineering design process, there are exciting STEM questions that can be put to a simulated road test.
Projects for Students Doing Independent Science Projects or Science Fair
Students interested in car science, automotive engineering, and cutting-edge topics like self-driving cars and machine learning can explore with independent projects like these:
Career Paths Related to Car Science
As students learn about science and engineering related to car science, they can learn more about related STEM career paths with career profiles like:
Additional Resources
For additional educator resources to teach about car science and the science concepts referenced above, see:
Vocabulary
The following word bank contains words that may be covered when teaching about car science using the lessons and activities in this resource.
Alternate energy
Autonomous vehicle
Axle
Chassis
Differential
Driveshaft
Engineering design
Forces of motion
Gears
Kinetic energy
Machine learning
Newton's laws of motion
Potential energy
Renewable energy
Shock absorber
Solar power (solar energy)
Suspension system
Wheels
Thematic Collections
Collections like this help educators find themed activities in a specific subject area or discover activities and lessons that meet a curriculum need. We hope these collections make it convenient for teachers to browse related lessons and activities. For other collections, see the Teaching Science Units and Thematic Collections lists. We encourage you to browse the complete STEM Activities for Kids and Lesson Plans areas, too. Filters are available to help you narrow your search.
You Might Also Enjoy These Related Posts:
Explore Our Science Videos
How To Curl Metals With Heat
Make a Whirlybird from Paper
DIY Mini Drone Part 6: Motion Control