15+ Creative Science and Engineering Projects for Kids
Pair creativity and STEM for engaging projects and activities that students can enjoy any time of the year. If your kids love DIY and "maker"-style projects, Science Buddies has plenty of options! Bookmark this list of 15+ hands-on science and engineering projects as a starting point.

Fifteen Plus Science and Engineering Projects for Creative Kids: Hands-on STEM with Science Buddies. www.sciencebuddies.org
Creative STEM for K-12 Students
The 15+ projects and activities below blend creative thinking, craft, DIY, innovation, and hands-on science. These are just a few of the many creative science projects at Science Buddies!

Pin this collection: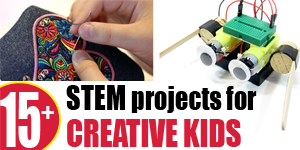 Categories:
You Might Also Enjoy These Related Posts:
Explore Our Science Videos
DIY Mini Drone Part 5: Analog Joystick Control
Separating Iron Filings from Sand
Make a Hygrometer to Measure Humidity – STEM activity