Art Experiments for Science Class
Can science make you a better artist or help you create your next masterpiece? Put creative science on display with STEM experiments about art!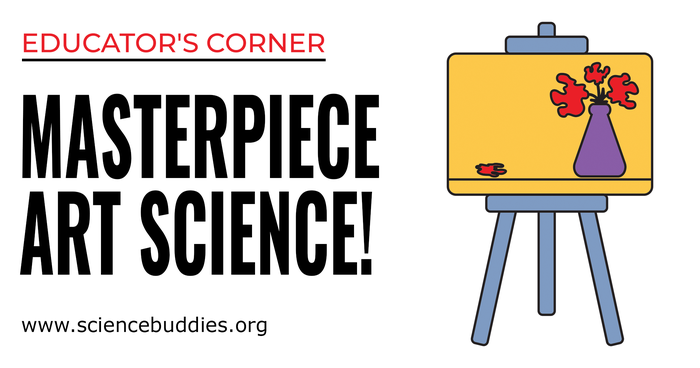 Art & STEM!
What does painting a picture, making a sculpture, or creating a mobile have to do with science? A lot! Science explains how colors mix and how different types of paint work on various papers and surfaces. Science explains how art materials are developed with specific properties, for example, how some paints are more viscous than others or how some materials have lightfast or waterproof properties. Science explains why some pieces of art last centuries and others fade away. Science can even help students better understand key principles of composition and design that can be applied to various mediums. Many of the techniques, tools, and materials used through the years to make art are possible because of science!
Our Educator's Corner series features high-interest STEM activities that work well with students in both formal and informal settings—in the classroom or at home. These activities are grouped in fun themes that make it easy for educators to pick and choose just-right activities for special days or special units. Each collection is hand-curated for fun, ease-of-use, simple materials, accessibility, and interest factor. To help educators bundle activities with additional classroom or out-of-class activities and reflection, we've included discussion questions, career connections. We've also included book suggestions to help educators tie science and engineering to English Language Arts.
Art STEM: Experiment | Watch Videos | Ask Questions | Dig Deeper | Explore Careers | Read Books
EXPERIMENT: STEM Experiments for Artsy Fun!
WATCH: Videos
ASK: Questions
Use these questions to prompt conversation and reflection about the science behind these Art Science activities:
Why would an artist need to understand science? Can you think of an example?
Can you think of an experiment you could do to test and compare two approaches to making your favorite kind of art?
DIG DEEPER: More Lessons and Activities
For additional lessons and experiments related to the activities above, see these curated Teaching Science Units collections:
PROJECTS: Independent Student Projects
Students interested in art and design may be inspired to do independent science projects like these:
EXPLORE: STEM Careers
After trying Art Science experiments, students may be inspired to learn more about these science and engineering careers:
KITS
The following Science Buddies Kits fit in with the Art Science theme. These science and engineering kits provide the specialty materials students need for engaging independent science experiments:
READ: Books
Pair books like these with Art Science explorations.
Categories:
You Might Also Enjoy These Related Posts:
Explore Our Science Videos
Maglev Train Assembly Instructions
How to Measure Light with Google's Science Journal App
Ball Launcher: 2018 Engineering Challenge