Answering Kids' COVID-19 Questions: Doing Fun Science at Home during School Closures (Activity #12)
Follow along with a Science Buddies parent who is using family STEM activities to keep her kids learning at home during the COVID-19 school shutdown. New posts every Monday, Wednesday, and Friday. Today's adventure... answering COVID-19 questions by building models of viruses and understanding how soap can help kill coronavirus.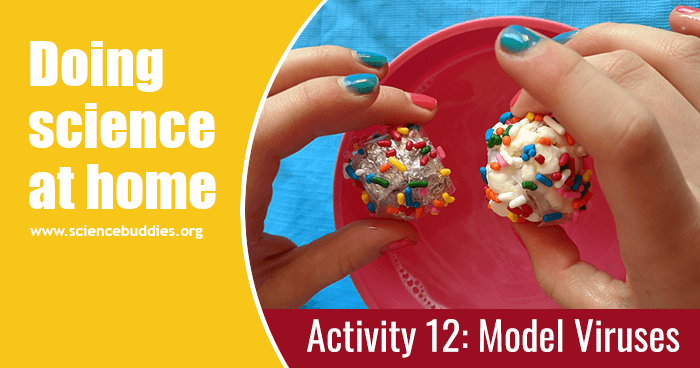 Activities to Address Kids' Questions About COVID-19
Do your children have questions about this coronavirus or the pandemic in general? Mine do. "What happens if you get COVID-19? Why are you wearing a mask to go to the grocery store? Are you going to keep making us wash our hands like this forever? Why can't I have a playdate? If colds are coronaviruses, then why is this virus such a big deal?" And the list goes on and on...
I'm not a child psychologist. I'm not going to even pretend to know the best way to deal with all these questions! As parents, each of us has to figure out the right path through the question minefield. I can tell you what I do though. I try to answer their questions as honestly and factually as possible while highlighting the most positive aspects I can. We've talked about how we're protecting ourselves and saving other people's lives through social distancing. We've talked about how handwashing and masks also slow down transmission. We've discussed how hard scientists are working on preparing vaccines, what they'll do, and how they'll help us get back to normal. You get the picture.
Sometimes though, a question is best answered by a demonstration. We can't see the coronavirus that is wreaking all this havoc on our lives — it's too small to see. So, it feels a bit abstract, at least to my youngest child. These COVID-19-related activities can give you a more concrete approach to answering some of the questions your kids have and can help reassure them that their actions are having a positive net affect:
Note: Science Buddies staff are continuing to develop additional COVID-19 related activities to help students explore and answer their questions. As we create these activities, we'll be adding them to our coronavirus resource page.
My Pick of the Day: Making Virus Models
On a rare grocery store excursion the other day, I wore a mask. When I got home, I immediately showered and put my clothes and mask in the wash. Then the anxious questions started. Why did you wear the mask? How do you know your mask will be okay to wear again? Why couldn't I hug you until you showered? Listening to their questions, I knew this was the right time for the How Do Viruses React To Soap? activity. It would both distract them and help answer their questions. I hoped they'd feel reassured that coronavirus can be killed if we are careful — and that I was doing just that, being careful by washing myself, my clothes, and my mask after being out.
As we always do when a video is available, we started there. We watched the video together, pausing to identify the similarities and differences between enveloped viruses (like the one that causes COVID-19) and non-enveloped viruses. We also talked through how the models we were going to build relate to the real viruses. I was impressed that even my second-grader immediately grasped what each material represented in the models.
Both my middle-schooler and my second-grader were intrigued by the video and interested in doing the activity. After gathering the materials, they immediately sat down to start making their aluminum foil balls (aka virus cores).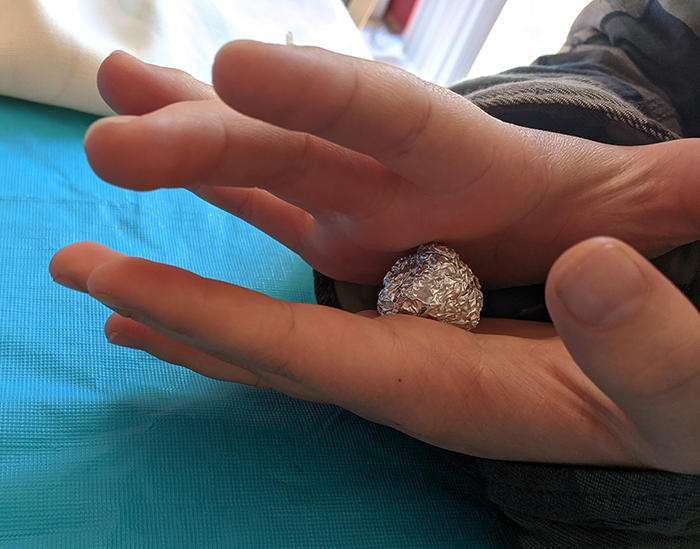 We only had narrow double-sided tape, so it took a bit of effort to cover the foil balls in tape, but both kids managed on their own. Covering one ball in butter to mimic the virus's lipid envelope was messy, but also lots of fun.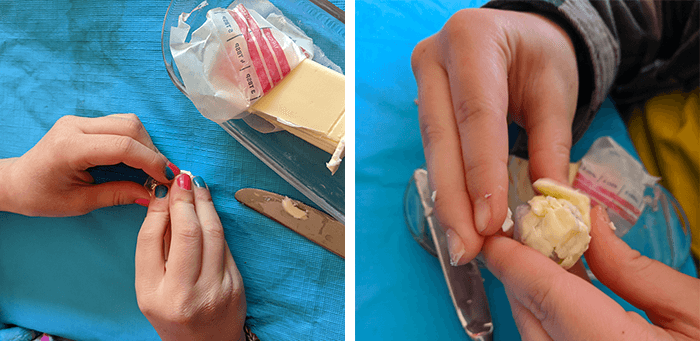 Next came rolling both the enveloped (buttered) and non-enveloped (no butter) virus models in sprinkles (attachment proteins). I pretended not to notice when both kids "snuck" some butter and sprinkles — but let's be honest, it was a move any parent would expect their kids to make and, in my book, part of the kid-fun!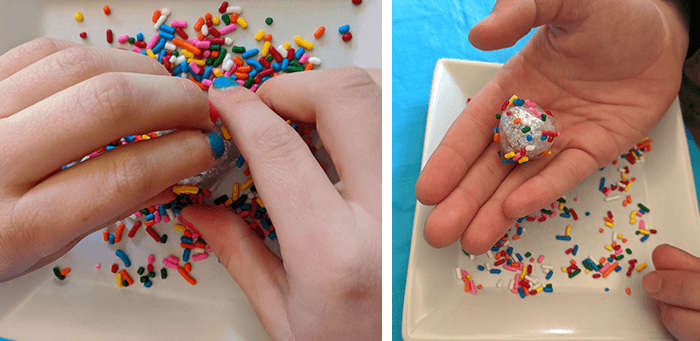 While both kids put more than the requisite "two pumps" of soap in their bowls of warm water, it certainly didn't harm anything. As they stirred the soapy water, they saw that the butter-sprinkle layer was being washed away from the enveloped virus model, but the sprinkles stayed stuck better to the non-enveloped virus model. It wasn't hard for them to then put together the rest of the puzzle, and they were quick to understand that the soap helped inactivate coronavirus by destroying its lipid membrane, which explained why I washed everything when I got home.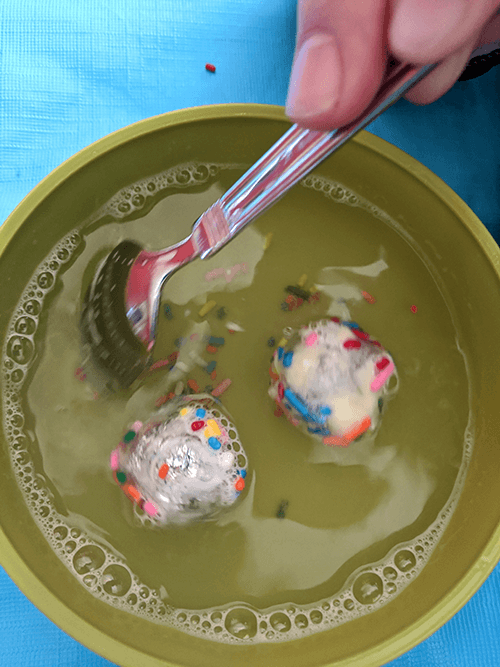 My son and I spent a few more minutes looking at the diagrams in the "Digging Deeper" section of the activity (on the Explore More tab). He's had some introduction to molecules in his middle-school science classes, so he could understand what was going on between the soap and the lipid layer at the molecular level. I skipped this part with my younger child as it was mostly above her comprehension level.
From start to finish, this activity took less than thirty minutes. Both kids remained engaged the whole time. Best of all, they felt knowledgeable and reassured by the time it was done.
If your kids make virus models or explore any of the other COVID-19 related activities, post a picture of their experiment on social media and tag us. You can find us on Twitter, Facebook, and Instagram.
If this blog post was useful to you, please share it with other parents. Follow the links below to see what other science adventures we've been having at home.
View All Posts in this Series
Activity 12 - Making Model Viruses
A science activity log is available as a Word document or as a Google doc for online convenience. (Just choose "File/Make a copy" to save it to your Google Drive.)
About the Author
Sandra, Science Buddies' Vice President of STEM education, holds a PhD in Genetics from Stanford University and has spent the last twelve years working on science education and STEM outreach. Right now, she's stuck working from her home in the Pacific Northwest with her husband, second grader, middle schooler, and two oddly noisy gerbils. She hypothesizes her sanity will hold as long as she gets a daily dose of sunshine.
Categories:
You Might Also Enjoy These Related Posts:
Explore Our Science Videos
Model the Planets of the Solar System
Brazil Nut Effect Explained
Obstacle-Avoiding: BlueBot Project #4