Your Guide to Science Activities for Summer Break
Pencil in some summer science fun with science, technology, engineering, and math activities that your kids can do at home over the break. No reports, no grades, just exciting hands-on, DIY learning, innovation, and discovery! We have suggestions to help you make sure summer break has plenty of opportunity for awesome, empowering, skill-building exploration with projects they will be excited about doing "just for fun."

Awesome Science for Summer Break: Hands-on STEM with Science Buddies. www.sciencebuddies.org
Summer break from school leaves hours and hours to fill! Keeping kids stocked with creative, hands-on STEM activities is a great way to infuse the summer with brain-boosting fun.
Science Buddies has hundreds of activities, projects, and experiments that can be done at home as summer exploration. Kids can create, build, make, and innovate with DIY physics, robotics, and engineering projects. Colorful chemistry experiments let kids mix, measure, and observe, and food science projects bring chemistry into the kitchen for edible fun. We recommend you mix and match projects that best fit your kids' interests and also give them plenty of room to explore, be creative, and make discoveries.
The following projects and activities make our "top picks" list for this summer, but we encourage you to explore our full STEM activities area and our weekly family activities spotlight for many, many more great options!
Summer Science Picks
More Great Choices for Science at Home
Don't miss these other "break"-oriented collections of science, technology, engineering, and math projects:
See also:
STEM Activities for Kids
and the
Weekly Family Science Activity Spotlight
.
Pin this collection: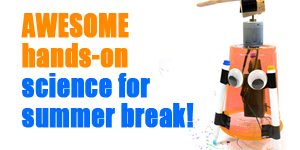 Categories:
You Might Also Enjoy These Related Posts:
Explore Our Science Videos
Model Your Blood Flow – STEM activity
Build a Submarine -STEM activity
Build A Solar Updraft Tower!