Teachers Develop Exciting New Lessons with Us for Science Journal
Google's Science Journal app turns a student's mobile device into a toolbox for real-time data gathering. Three new Science Buddies lessons for using Science Journal in the STEM classroom were developed in collaboration with teachers!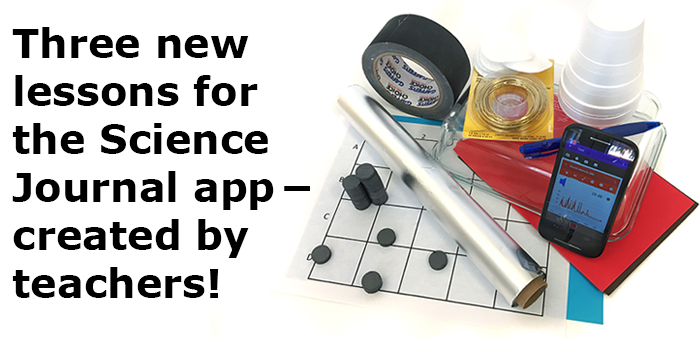 Three new lessons for the Science Journal app - created by teachers!
Note: The Google Science Journal app is no longer available. Projects and Lesson Plans at Science Buddies that used the app have been revised to use other sensor apps for mobile devices that have similar functionality. The information below may still be valuable as a starting point for working with sensor-based apps, but please refer to your app for specific information about accessing and using sensor tools.
Science Buddies is excited to announce the availability of three new NGSS-aligned Lesson Plans for use with Google's free Science Journal app. These Lesson Plans are the result of a new pilot program in which Science Buddies worked closely with STEM teachers to develop innovative Science Journal app activities for use in the classroom.
Teachers interested in the program submitted ideas for activities involving the Science Journal app. Science Buddies then worked with selected teachers to develop their ideas using Science Buddies' Lesson Plan format. Thanks to support from Google, teachers received stipends for co-creating these lessons.
For Science Buddies, working directly with teachers on the development of Lesson Plans adds a new level of engagement with the community of teachers who use Science Buddies as a resource. "Kathy, Jill, and Emily brought their classroom expertise to the Lesson Plan creation process and provided invaluable insight into the ways in which each activity could best leverage the real-time data collection opportunities of the Science Journal app," says Sandra Slutz, Vice President of STEM Education. "The results are three fantastic lessons that engage students in real experiential learning."
The three new lessons and the teachers who collaborated on them are:
All Lesson Plans at Science Buddies are NGSS-aligned and contain background information for educators, discussion prompts, a guided hands-on activity, and supplemental materials like worksheets, videos, and quizzes.
Learn more about these free new lessons and the teachers who helped create them below.
Magnet Mining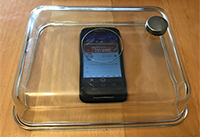 The Magnet Mining lesson combines the science of magnetism with the physics of ship design and the history of naval combat during World War II. In this lesson, students learn about magnetic fields and then set up model magnetic mines using small magnets and a gamelike approach that resembles the classic game of Battleship. Using the magnetometer on a mobile device (preferably Android for this lesson) and the Science Journal app, students experiment with finding hidden underwater magnetic mines and determining the size of the mines.
As an extension to the activity, students can investigate ways to cloak their ships to avoid detection by the mines. Again, history comes into play as students learn more about how navies worked to hide the magnetic fields of ships so that they could pass over mines safely. Using ships made out of the magnets used as mines in the first part of the activity, students put creative thinking and problem solving skills to use and apply what they learned about magnetism and magnetic fields to see if they can hide their ships from the Science Journal app's magnetometer. (In this simulation, the phone with the app represents the magnetic mine under the water.)
This lesson was co-developed with Kathy Biernat, a middle school teacher at St. Mary's Visitation School in Elm Grove, Wisconsin. In conceptualizing the lesson, Kathy was particularly interested in combining hands-on science with a historical context. "When thinking about magnets, I wanted to have something engaging, something that made the students realize the impact of a scientific / engineering problem and solution that saved many lives and may have affected the outcome of WWII. I was looking for a phenomenon that was meaningful for students and to have them start to make connections between science and history."
Kathy describes Google's free Science Journal app as "amazing." "Even if you are in a school with zero technology available to students, as a teacher, you probably have a phone, and you can run the app as a demonstration. The graphing is terrific (students can never get enough experience with graphing in my opinion), and I love that they can add pictures, too, to their observations. The app is user friendly and engaging. It puts data collection literally into students hands and lets them BE scientists, not just read about them."
As a long-time user of Science Buddies' resources, Kathy is happy for the opportunity to collaborate on the Magnet Mining lesson plan. "I am SOOO excited and, honestly, very proud! I have been using Science Buddies lessons and resources for many years and have always found them to be high quality and easy to implement due to the clear directions, photographs, etc. The connections to the NGSS are also valued. To be a part of this community, which I respect, is awesome."
Classroom Noise Meter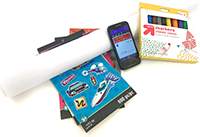 The Classroom Noise Meter lesson helps students quantify noise thresholds as part of a process of establishing acceptable noise limits for the classroom. Using the sound sensor on a mobile device and the Science Journal app, students measure sound levels in various classroom scenarios and learn about the properties of sound waves and the decibel scale. How loud is too loud in the classroom? After researching noise levels and taking measurements with the Science Journal app, students can work as a class to develop community guidelines for noise levels in the room.
This lesson was co-developed with Jill Magruder, a 7th-grade teacher at Carr Intermediate School in Santa Ana, California. Jill says she came up with the idea for this lesson as a way to improve her classroom environment. "My inspiration came in practicality. I wanted quantitative data points for sound levels in the classroom. My family is soft spoken and many of my students come from louder families. This perceived difference needed a quantitative answer. When I was exploring the Google's Science Journal App, I saw that I could now measure the sound levels in my classroom and use those to set the sound levels for classroom management."
Jill appreciates that the free Science Journal app makes so many kinds of measurements available to students with a single device. "My students have used the Google's Science Journal App to collect a wide variety of data without the added expense of specific separate meters. They can measure sound waves, light intensity, and motion using the app. The data points they create makes the abstract more tangible for my students."
"My students are ELA learners and need tangible examples of scientific concepts," adds Jill. "I have used many of the lessons [at Science Buddies] with my students. The lessons are complete and easy to follow."
Jill says the opportunity to co-create the new Classroom Noise Meter lesson with Science Buddies was a good experience. "I enjoy collaborating with my peers. Working with Science Buddies has expanded that pool and has been tons of fun."
Note: This lesson is listed as a middle school lesson plan but could easily be adapted for use with elementary school students.
Forces and Motion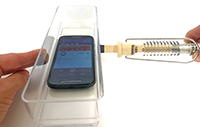 The Forces and Motion lesson guides students in a hands-on exploration of Newton's second law of motion, which states that the net force acting on an object is equal to the object's mass times its acceleration. Using the Science Journal app and the accelerometer, students investigate the relationship between force, mass, and acceleration as they measure the acceleration of a box being pushed across a surface when different forces are applied or when the box's mass is changed.
This lesson was co-developed with Emily Cizmas, a 10th-grade teacher at Lincoln Park High School in Livonia, Michigan. Emily says she has used this activity in the classroom and wanted to share it with other teachers. "I found this lesson to be successful in helping my students understand a core physics concept in a very concrete way."
Emily says she first learned about the Science Journal app from Science Buddies and really appreciates the way the app brings quantitative measuring tools to more classrooms. "Investigation-based science requires tools for data collection and analysis. However, these tools are expensive and are not available in many classrooms. Google Science Journal provides a free, convenient way for students to collect real data, right on their smartphones."
"I've found innovative lesson ideas on Science Buddies, which help me enrich the learning experience for my students," says Emily. "I am happy to contribute to Science Buddies because it is a way for me to share ideas with other teachers for free."
Get to Know the Science Journal App
Science Buddies continues to develop new materials for teachers looking to use the Science Journal app with students for real-time measuring and the gathering of quantitative data.
"At Science Buddies, when we look at an app or new piece of technology for the classroom, we aren't interested in technology for technology's sake," explains Slutz. "We want to make sure it is bringing real value to the learning environment. We feel Science Journal does this in the way it helps students record and visualize real-time data from sensors with a tool that so many students already carry around in their pockets—a mobile phone."
To help teachers and students learn more about using the Science Journal app, Science Buddies has a tutorial series that covers basic app usage as well as separate tutorials for some commonly used sensors.
All tutorials can be reached from the Learn to Use Google's Science Journal App page. Teachers can assign the tutorial page (as a whole) or individual tutorials to students.
The Science Journal App page for educators also contains links to videos and tutorials as well as a list of Science Buddies Lesson Plans that work with the Science Journal app. (For additional information about Science Buddies' Lesson Plans, see How to Use a Science Buddies Lesson Plan.)
The following posts are also available to inspire educators to explore Science Journal app:
Download the App to Get Started!
The Google Science Journal app is no longer available. Download links have been removed.
Share Your Science Buddies Story!
Have you used a science project, STEM activity, or Lesson Plan from Science Buddies in your class or program? We would love to hear your story! Email us at scibuddy@sciencebuddies.org and tell us how you use Science Buddies with students.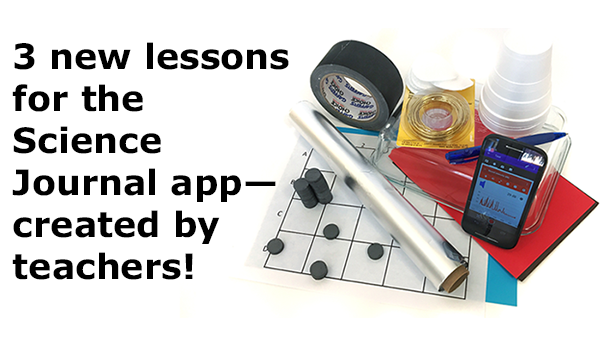 Categories:
You Might Also Enjoy These Related Posts:
Explore Our Science Videos
Make Fake Snow - Craft Your Science Project
Slippery Slopes - STEM activity
How Antibiotic Resistant Bacteria Take Over – STEM activity