Wall Marble Run: Doing Fun Science at Home during School Closures (Activity #30)
Follow along with a Science Buddies parent who is using family STEM activities to keep her kids learning at home during the COVID-19 school shutdown. New posts every Monday, Wednesday, and Friday. Today's adventure... building a crazy wall marble run from toilet paper tubes.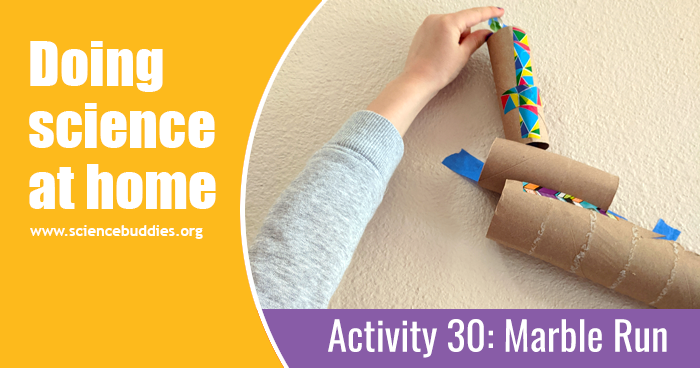 Digging into bigger STEM projects
Twelve weeks — that's how long it's been in my house since COVID-19 transmission forced schools to send kids home, businesses to close or shift to online operations, and our family to stop hanging out with friends in person. I never imagined it would go on this long!
I also never imagined we would get through so many STEM activities as a family during our COVID-19 quarantine. Today makes our 30th blog post in the Doing Science at Home series. To celebrate, I decided we would go big.
Most days, I'm not looking for a big STEM project. In fact, there have been many days when I was specifically looking for something small to fill a gap in our day. That is why I chose activities like observing a candle see-saw, making ice cream in a bag, and building a popsicle stick catapult. Other times, I opted for activities that were more involved, like making slime three ways, building a straw robot hand, and making our own kites .
While many of these more-involved activities can be made shorter or longer depending on the time and energy you have, with summer approaching and kids having lots of free time on their hands, I'd like to highlight some of the even-bigger STEM projects that are still left on my personal list. These are projects that take a couple of hours, and if your kids really get into it, these can easily turn into multiday adventures:
My Pick of the Day: Wall Marble Run
With the luxury of a three-day weekend, but nowhere to go, this felt like the perfect time to tackle a bigger STEM project. I was looking for one that the whole family could get in on. For our family, that means something that works for my less patient second-grader and for my more tenacious seventh-grader. I thought the Build A Wall Marble Run activity would strike that balance.
As usual, we started off by watching the video:
Since building a wall marble run has been on my to-do list for a while, we've been saving all the cardboard tubes from toilet paper and paper towel rolls. Although we've dipped into the cardboard tube stash a couple of times for activities like building a box guitar and making a cotton-ball launcher, we've managed to accumulate a good number, so we had plenty of materials to work with for our marble run!
My son was gracious enough to let his younger sister make the initial design on paper for the marble run. Her vision was to have three starting points, each at a different level, feed into a central chute that would lead to a single end point. With the design in hand, we were ready to dive in, but then the topic of decorating the tubes came up. After a bit of back and forth, we settled on using our art-deco patterned tapes in strips and stripes along the tubes.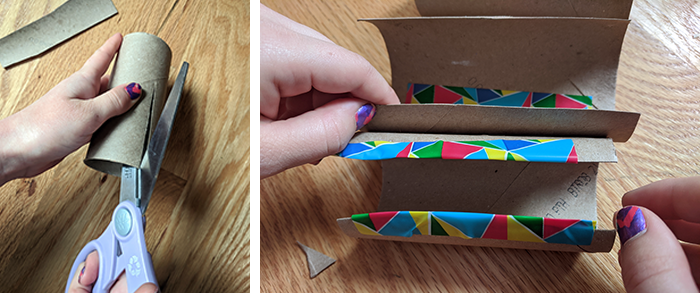 Once all the tubes had been decorated, the building began. It took a little trial and error for the kids to figure out how to affix the tubes to the wall with painter's tape. Once they got the hang of it, things went quickly. They started off by placing the three entry points and then building each line towards a central point.
One of the things I was happy that they took to heart from the video was to test often. We often found that the placement of a tube needed to be tweaked so that the marble didn't jump out of the track or ricochet in an unexpected way. And we definitely made use of the backstop building technique shown in the video!
From start to finish, this project took us about two-and-a-half hours. Since then, the wall marble run has gotten additional usage as a toy, been the focal point for my second-grader's show-and-tell school video of the week, and been included in a video-call to grandparents. Definitely a success!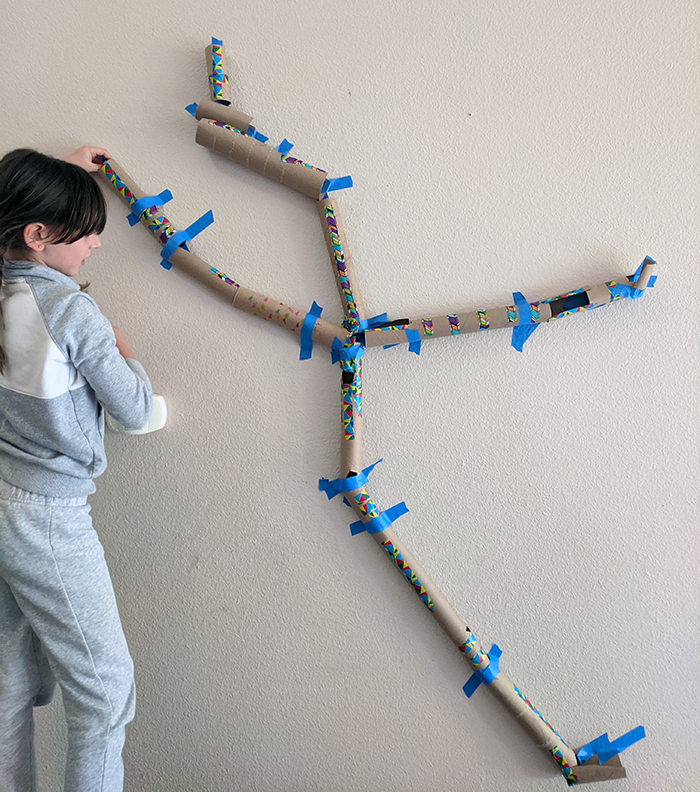 If your kids build a marble run or tackle any of the other big STEM projects , we'd love to see. Post a picture of what they make on social media and tag us. You can find us on Twitter, Facebook, and Instagram.
The End of School Year STEM and the Beginning of Summer of STEM
I started this adventure nearly twelve weeks ago because I wanted my kids to continue experiencing hands-on science education even though they weren't physically in the classroom. As I said earlier, I never imagined that we would get through 30 activities! For us, the school year is starting to wind down, which means so is this particular STEM adventure. This will be my last Doing Science at Home blog piece for now. It won't, however, be the end of our family's STEM adventures!
Science Buddies will be sharing a free Summer of STEM starting June 1. Each week, we will post a fun summer theme with STEM activities, book recommendations, videos, and more. With local camps canceled, my two kids are looking forward to including the Summer of STEM in their school vacation plans. I invite your family to use the Summer of STEM resources, too. Feel free to pick and choose the parts that work best for you and your children.
We've also kicked our summer science suggestions off with a collection of STEM Activities for Storytelling. These five activities are an excellent complement to local summer reading programs.
Thank you for joining me over these last 30 weeks. Wherever your family STEM adventures take you, I hope you and your children enjoy the journey — I know we have.
If this blog post was useful to you, please share it with other parents. Follow the links below to see what other science adventures we've been having at home.
View All Posts in this Series
Activity 30 - Wall Marble Run
A science activity log is available as a Word document or as a Google doc for online convenience. (Just choose "File/Make a copy" to save it to your Google Drive.)
About the Author
Sandra, Science Buddies' Vice President of STEM education, holds a PhD in Genetics from Stanford University and has spent the last twelve years working on science education and STEM outreach. Right now, she's stuck working from her home in the Pacific Northwest with her husband, second grader, middle schooler, and two oddly noisy gerbils. She hypothesizes her sanity will hold as long as she gets a daily dose of sunshine.
Categories:
You Might Also Enjoy These Related Posts:
Explore Our Science Videos
Making False-Color X-ray Images with NASA Files from the Chandra Observatory
Line-Tracking Robot: BlueBot Project #3