Making Ice Cream: Doing Fun Science at Home during School Closures (Activity #19)
Follow along with a Science Buddies parent who is using family STEM activities to keep her kids learning at home during the COVID-19 school shutdown. New posts every Monday, Wednesday, and Friday. Today's adventure... making ice cream in a bag.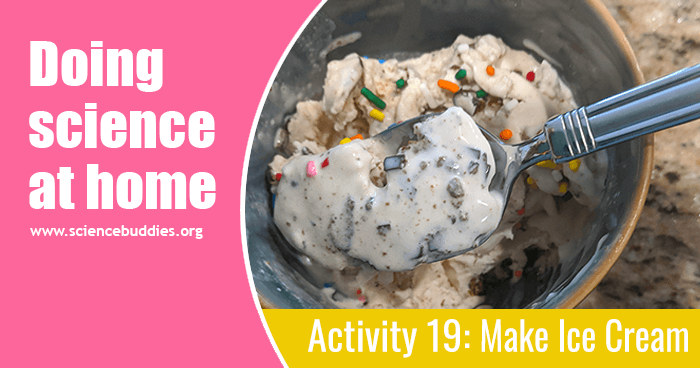 The Science of Treats
What are you doing to treat yourself these days? A glance at Instagram and Facebook suggests many of us are doubling down on comfort food and delicious treats. I know that's true at my house! Over the last eight weeks, we've made muffins, cookies, pear galettes, and brownies, and friends and family have gifted us with focaccia bread, cupcakes, and chocolates (yum — thanks!).
Culture and psychology have a lot to do with the emphasis on treats these days, but so does our desire to stay busy. Any stay-at-home parent will tell you that a kitchen project, especially one that involves a sweet treat, is a great way to keep kids cheerfully busy. It's also a fun way to get in some science. Cooking is all about chemistry and physics. From heat transfer to crystallization, here are a few science activities whose results will delight your taste buds:
My Pick of the Day: Making Fancy Ice Cream in a Bag
Despite the bonanza of treats we've made and been gifted with recently, the one place my kids have been missing is our local ice cream shop. This is why I picked the Make Ice Cream in a Bag activity. I knew ours wouldn't come out quite as gourmet — but there is something delightful about ice cream you make yourself.
Full disclosure: my children and I have done this activity before — several times. It's super easy, yummy, and, honestly, only takes twenty minutes from idea to eating. They're also well-versed in the science explanation. So, confident that we knew how to do the baseline activity, I suggested that we experiment with the recipe and they each create a fancy ice cream flavor.
After a bit of discussion and guessing about what might or might not work, we settled on trying to make two flavors: Thin Mint (as a nod to our local ice cream shop, which buys thousands of boxes of Girl Scout Thin Mints cookies every year to make their version of this flavor) and maple syrup. For the Thin Mint version, we kept the basic recipe of cream, sugar, and vanilla the same and simply added two finely chopped cookies from our stash. The maple syrup version took a bit more discussion. My daughter was all for keeping the sugar and adding in maple syrup on top of that, but my son thought it would be too sweet. After a few minutes of back and forth, he managed to convince his sister. The final recipe was simply the half-cup of cream that the activity calls for plus a tablespoon of maple syrup.
The kids labeled a quart-sized plastic bag for each of the recipes, added the ingredients, and sealed them up. Pro tip #1, do check the seal! I've made the mistake of not doing that before... trust me, you don't want the cleanup or the tears.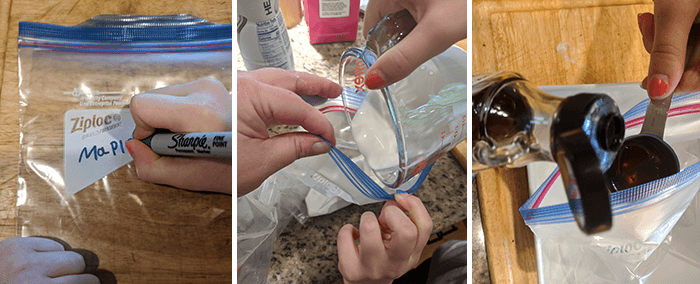 Then they got the ice trays out of the freezer, popped out all the ice we had, and put it into two gallon-sized plastic bags. The gallon-sized bags were each a bit more than a third full. Each kid measured out a half-cup of rock salt (kosher salt works nicely too), added that to their bag of ice, and placed the sealed quart-sized bag of ingredients on top of the ice-salt mixture. I sealed up my second-grader's gallon bag while my seventh-grader sealed his own. Pro tip #2, expel as much of the air from the bags as you can before you seal them — this makes the ice cream freezing happen faster as you don't have to cool air as well as cream!
Next came the shaking. This step is exactly as described in the activity, 5 minutes of shaking the ice bag. My kids always complain about how "cold" it is, but they still keep shaking. Pro tip #3, do this step outside! Inevitably, a bag leaks, usually from an ice cube puncture, occasionally from a fingernail — regardless, outside means less to clean up.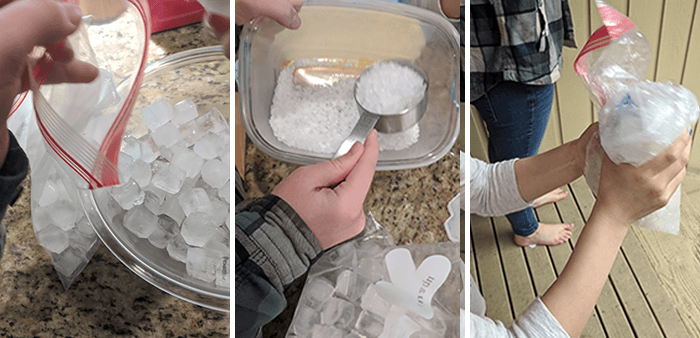 It is pretty obvious when the ice cream is done. The contents of the quart-sized bag become stiff rather than runny. You can't over-do the shaking, and if you stop too soon, simply reseal the bags and continue. Honestly, there just aren't a lot of ways to mess this up as long as you start with enough ice and salt.
Once the shaking was done, we took out the bags of ice cream, scooped the ice cream into bowls, and topped with sprinkles. Then came the best part — tasting! Both recipes turned out to be a success. Neither the addition of add-ins, like the Thin Mints, or the substitution of the maple syrup for sugar interfered with the freezing process. My daughter declared it to be the best version of this activity we've ever done. My son was too busy eating to comment.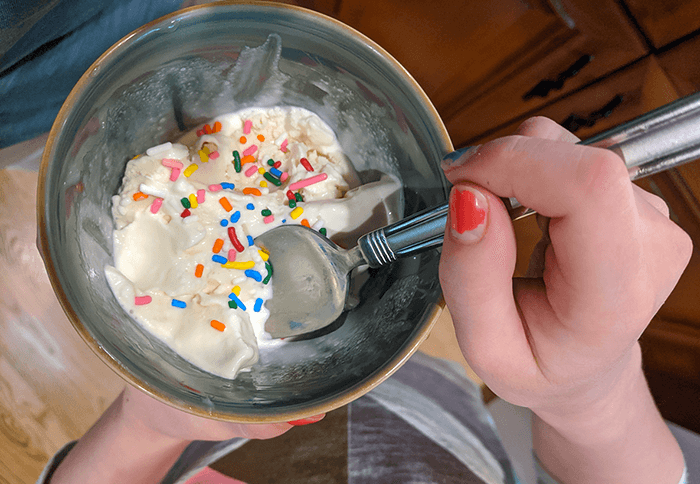 If your kids make ice cream in a bag, fancy or plain vanilla, or any of the other science treats , we'd love to see the results. Post a picture of what they make on social media and tag us. You can find us on Twitter, Facebook, and Instagram.
If this blog post was useful to you, please share it with other parents. Follow the links below to see what other science adventures we've been having at home.
View All Posts in this Series
Activity 19 - Ice Cream in a Bag
A science activity log is available as a Word document or as a Google doc for online convenience. (Just choose "File/Make a copy" to save it to your Google Drive.)
About the Author
Sandra, Science Buddies' Vice President of STEM education, holds a PhD in Genetics from Stanford University and has spent the last twelve years working on science education and STEM outreach. Right now, she's stuck working from her home in the Pacific Northwest with her husband, second grader, middle schooler, and two oddly noisy gerbils. She hypothesizes her sanity will hold as long as she gets a daily dose of sunshine.
Categories:
You Might Also Enjoy These Related Posts:
Explore Our Science Videos
Why Aren't All Medicines Pills?
Follow the Flow: 2017 Engineering Challenge
Harvest Water from Fog Science Project