Observing Nature: Doing Fun Science at Home during School Closures (Activity #4)
Follow along with a Science Buddies parent who is using family STEM activities to keep her kids learning at home during the COVID-19 school shutdown. New posts every Monday, Wednesday, and Friday. Today's adventure... a neighborhood walk leads to pulling apart flowers, all in the name of science.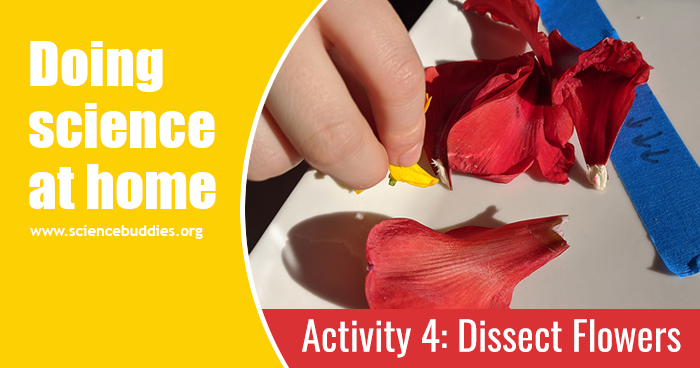 Observing Nature Means a Little More Sanity
It's been exactly two weeks since school closed for us, and I've learned a lot about each of my family members, including that my children are capable of way more chores with way less complaining than I ever imagined — chalk that one up to a COVID-19 silver lining! The biggest lesson by far though has been that if we don't get outside, there will be a meltdown. So, we walk.
By now we've walked around our neighborhood at least fifty times, which, admittedly, gets boring unless you actively make a point to be observant about nature. We're on the cusp of spring where I live, so there's quite a bit to look at if you take the time to notice: leaves and flowers are budding, birds are returning, and the bugs are starting to emerge. While noticing and talking about all those changes are fun and perk up the same-old walk, it's also nice to bring a bit of nature back inside and examine, build, or investigate it up close.
Here are a few activities that will allow you to do that with your kids:
My Pick of the Day: Flower Dissecting
To be totally transparent, I've had my eye on the Dissect a Flower activity since my co-worker Svenja first wrote it up. Until now, there hasn't seemed to be a good moment to do it though. So, on one of our neighborhood walks, I took a plastic food storage container with me and naively challenged the kids to find some flowers. Friends, learn from my mistake — define the parameters of what is okay to pick before you set that challenge! Fortunately, the first beautiful flower victim was in my own yard, allowing us to back up and have that rule-setting conversation — our single daffodil was sacrificed in the name of science.
We ended up with an interesting collection of mostly weeds (dandelions and other daisy-like things I don't know the name of), flowers from ground cover (vinca), and abundantly flowering bushes (forsythia), along with my daffodil and a few pansies from our own yard.
We sat down with some tweezers and a diagram of flower parts and labeled one plate per kid for them to sort their flower parts onto. Tearing into the flowers was clearly the highlight for my second grader. She soon abandoned the delicate tweezers for the tactile joy of pulling the flower apart with her fingers.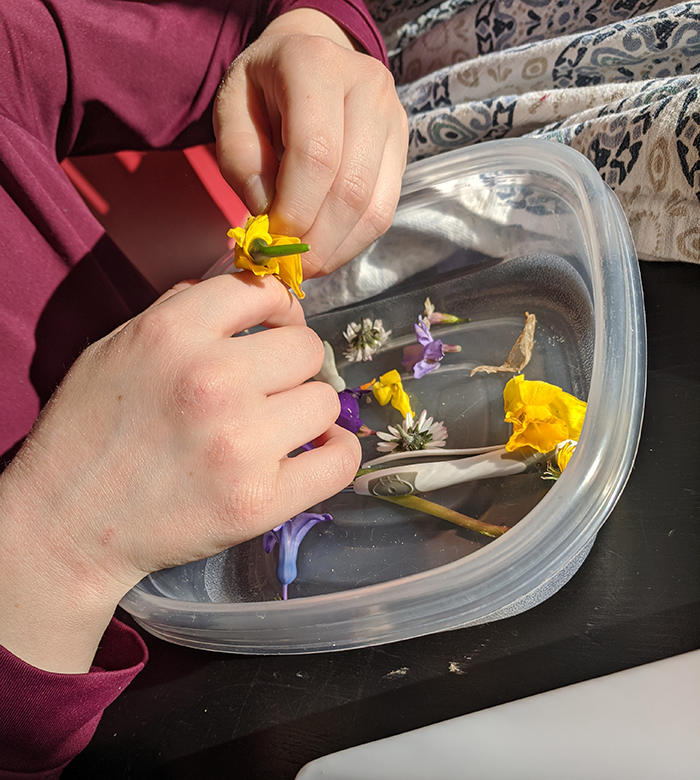 While she had no trouble identifying and sorting the flower parts, I do wish we'd had more larger flowers. Our flower haul was mostly small-petaled with delicate parts. I ended up giving her the last two blooms, which were miraculously still on an Amaryllis plant I'd bought for Christmas. These were much bigger, and she enjoyed them even more and liked sketching what she found in her science activity log.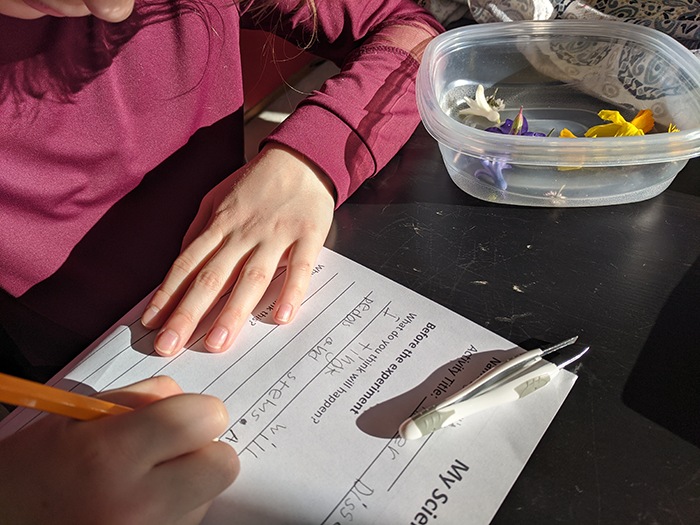 If I was repeating this science activity, I'd probably hold off until we had a few tulips or larger flowers in bloom or pick some up on my weekly grocery store run.
In contrast, my middle schooler was content to spend time painstakingly plucking off tiny dandelion petals with tweezers. To my surprise, he stuck with this activity for a long time (over an hour) and ended up with a nice collection of tiny plant organs.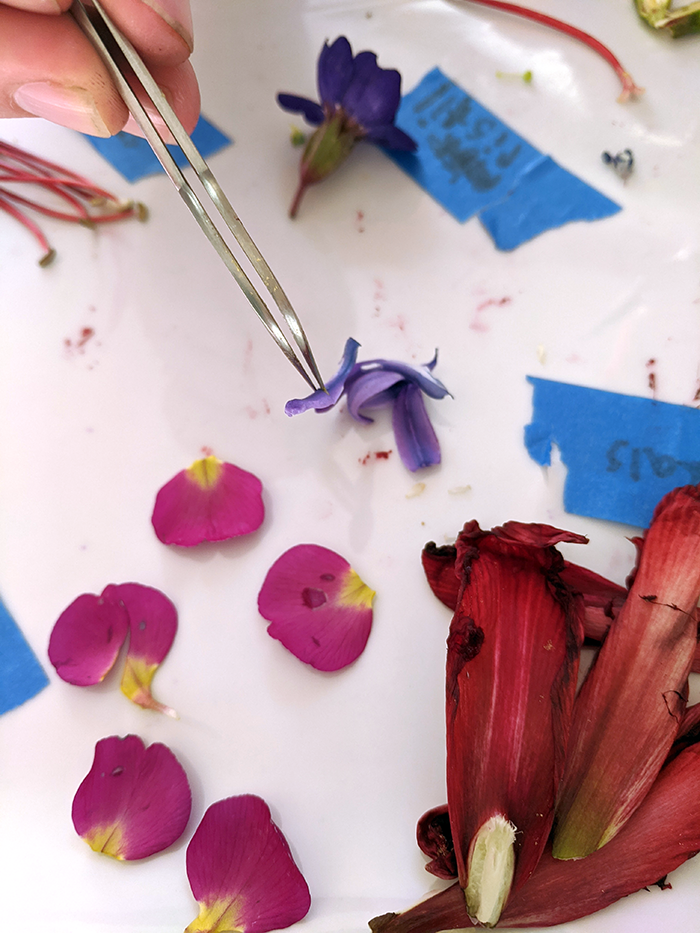 Both kids say they'd do it again, so maybe we'll revisit this one when more things are in bloom.
If you have flowers handy, either blooming in your yard or bought at the grocery store, I'd love to know how this activity goes for you. As always, if you have questions or comments, drop me an email. drop me an email.
If this blog post was useful to you, please share it with other parents. Follow the links below to see what other science adventures at home we've been having.
View All Posts in this Series
Activity 4 - Dissecting Flowers
A science activity log is available as a Word document or as a Google doc for online convenience. (Just choose "File/Make a copy" to save it to your Google Drive.)
About the Author
Sandra, Science Buddies' Vice President of STEM education, holds a PhD in Genetics from Stanford University and has spent the last twelve years working on science education and STEM outreach. Right now, she's stuck working from her home in the Pacific Northwest with her husband, second grader, middle schooler, and two oddly noisy gerbils. She hypothesizes her sanity will hold as long as she gets a daily dose of sunshine.
Categories:
You Might Also Enjoy These Related Posts:
Explore Our Science Videos
Paper Roller Coasters - Fun STEM Activity!
Aluminum Foil Boat Design - STEM Lesson Plan
Solubility Science – STEM Activity