Wacky Tricks: Doing Fun Science at Home during School Closures (Activity #7)
Follow along with a Science Buddies parent who is using family STEM activities to keep her kids learning at home during the COVID-19 school shutdown. New posts every Monday, Wednesday, and Friday. Today's adventure... molding hard-boiled eggs into wacky shapes.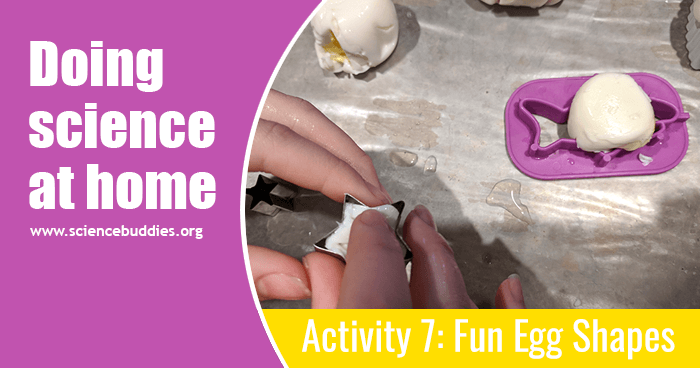 Weird Tricks are Often Cool Science
It's April Fools' Day, a day well known for its pranks, hoaxes, and tricks. My mom instincts are screaming "no!" this year. I'm pretty sure that now, when we're all stuck together at home, is not a time when pranks are going to go over well. Someone is going to end up crying — and it just might be me! So, in good old-fashioned self-preservation mode, I'm calling for a substitution: No pranks or hoaxes allowed, only science tricks.
Everyone loves to see a cool trick, right? Many cool and wacky tricks are really the application of science. Here are a few great ones to try out on April Fools' Day (or any day of the year):
My Pick of the Day: Molding Hard-boiled Eggs
I'm a logic-driven person, so my pick of the day is all about being practical. I wanted to do a cool science trick with my kids, and I needed to make lunch. My two-in-one solution was to do the Shaping Hard-boiled Eggs activity.
We started, as we often do if there is a video available, by watching the video together. Pro tip: if you're watching with someone who isn't a fast reader (like a second grader) just hit the pause button every time text appears on the screen. That allows them to digest the words on the screen at their own pace. Once the video was done, I set the kids to gathering the materials we needed.
I didn't have a milk carton I could sacrifice to make a box mold, and although I was pretty sure I could substitute by using the box template with a manila folder or even a cereal box, my kids were eager to try the cookie cutters. Our attempts did not turn out as cool as the ones in my coworker Sabine's video.
We really should have done the box (it gets awesome results), but the fun of science at home is that you don't have to follow the script; if your kids want to try a variation they can and should experiment . As long as you discuss the science of what happens, they're learning. My kids wanted to try some pretty complicated cookie cutters — so that's what we did.
We do a fair amount of cooking and baking together, so helping get the eggs started on the stove was within my youngest child's comfort zone. We chose to go with five eggs because a) we were ambitious and b) I needed that many for lunch! Peeling the hot eggs, however, proved to be too tricky for my second grader, so she pre-cracked them while my middle schooler and I pried off the egg shells.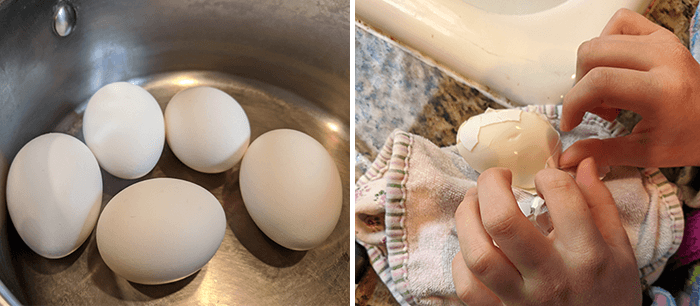 After dipping the eggs back in the hot water, we set each one in a cookie cutter. Some fit better than others.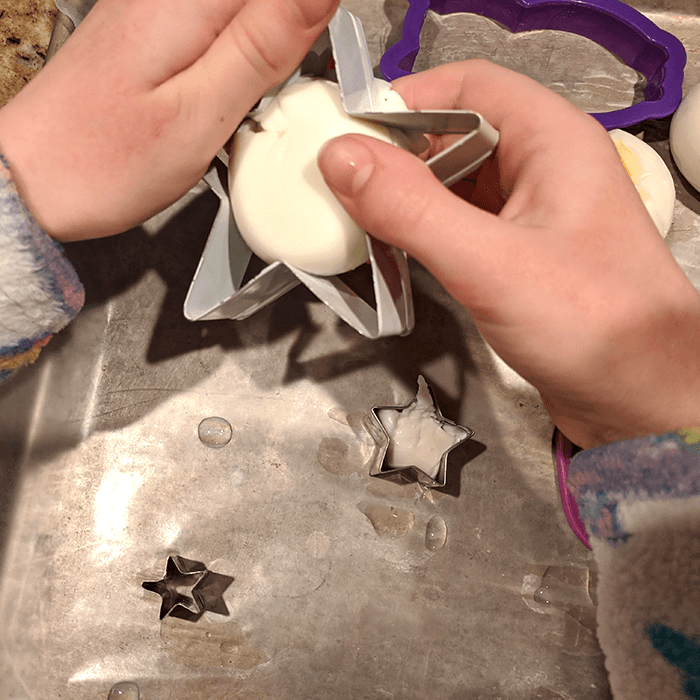 Overall, the kids' choices of cookie cutters weren't really practical for this activity. Rather than sharks, owls, and penguins, simpler shapes like circles or diamonds would have worked better. One egg broke completely, and my oldest had the brilliant idea of grabbing a tiny white star cookie cutter and sticking just the egg white part in there.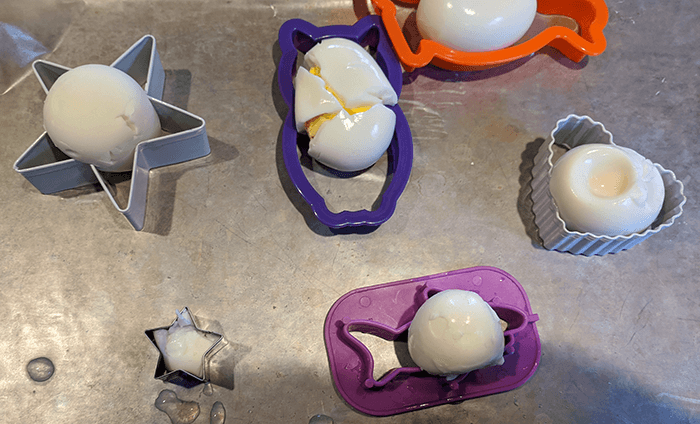 We covered the cookie cutters and eggs with a sheet of wax paper and lay a cookie sheet, gently weighed down by boxes from the cupboard, on top. Thirty minutes later we were ready to reveal the results. The complicated animal cookie cutters did change the shape of the eggs — but the eggs didn't take up enough of the space to really leave a clear impression of the animal shape. The heart one came out decent. I think if we repeated that one being a little more thoughtful about how to place the egg, it would turn out perfectly. In a cool turn of events, the egg-white-only tiny star my son made turned out best of all!
While both kids enjoyed the activity time, this one clearly skewed older. My middle schooler had more skills, patience, and interest in discussing the results than my second grader. In fact, he says he's going to try again because he has lots of new theories on how to get the perfect egg shapes! I guess we'll be having egg-salad for lunch again soon.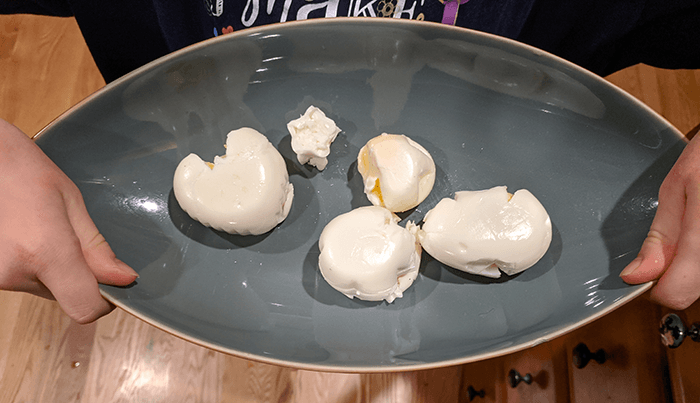 If your kids try this activity, or any of the other wacky science tricks, I'd love to hear how it goes. As always, if you have questions or comments, drop me an email.
If this blog post was useful to you, please share it with other parents. Follow the links below to see what other science adventures at home we've been having.
View All Posts in this Series
Activity 7 - Shaping Hard-boiled Eggs
A science activity log is available as a Word document or as a Google doc for online convenience. (Just choose "File/Make a copy" to save it to your Google Drive.)
About the Author
Sandra, Science Buddies' Vice President of STEM education, holds a PhD in Genetics from Stanford University and has spent the last twelve years working on science education and STEM outreach. Right now, she's stuck working from her home in the Pacific Northwest with her husband, second grader, middle schooler, and two oddly noisy gerbils. She hypothesizes her sanity will hold as long as she gets a daily dose of sunshine.
Categories:
You Might Also Enjoy These Related Posts:
Explore Our Science Videos
Build a Bottle Centrifuge
DIY Light Up Unicorn Headband