Doing Fun Science at Home during School Closures (Activity #17)
Follow along with a Science Buddies parent who is using family STEM activities to keep her kids learning at home during the COVID-19 school shutdown. New posts every Monday, Wednesday, and Friday. Today's adventure... building a cotton ball launcher.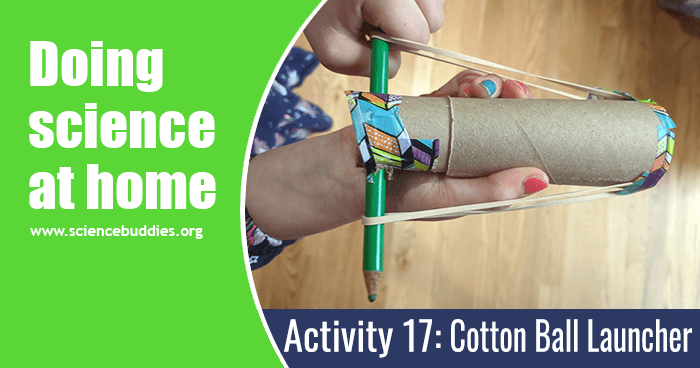 Rubber Bands — A Simple Frustration-Easer
How is it going for you? I'll be honest, it hasn't been a great day here. Today was one of those days where nothing goes right: four cranky family members, three devices that needed constant rebooting for no apparent reason, two fighting children, and one major work deadline for each parent. By the time we got to our science adventure part of the day, I knew we needed something fun and maybe a way to let off some steam.
You know what's satisfying when you're in a frustrated, cranky mood like we were? Rubber bands. Seriously, go grab a few rubber bands and stretch them out. Try shooting them across the room. It's satisfying, fun, and it takes away some of the day's frustration. Plus, kids are fascinated by rubber bands — they love to fiddle with them, pluck them, wrap them around things, and slingshot them at people.
That is why this list of rubber band activities should be in your back pocket in case you and your kids ever find yourselves having a bad day:
My Pick of the Day: Cotton Ball Launcher
As I mentioned, it was a pretty rotten day, and I was desperate for something that would inject some tension relief and fun into the day. I also didn't want anything complicated — neither my second-grader nor I had any patience left. Given all that, the Make a Cotton Ball Launcher activity was the clear choice for me. Nothing says "fun" to a kid like launching things.
My daughter watched the video for this project once and immediately understood all the steps.
I thought she might struggle with rolling the first tube into a smaller diameter, but I was wrong. She managed to cut, roll, and tape it without any help. (Notice that we opted for our fancy duct tape, as we did on the rubber band guitar activity, to add a splash of color.) She also managed to punch one of the two holes, but the other, which had to go through two layers of cardboard, proved to be too tough for her, and she asked her dad for help. She successfully pushed the pencil through on her own though.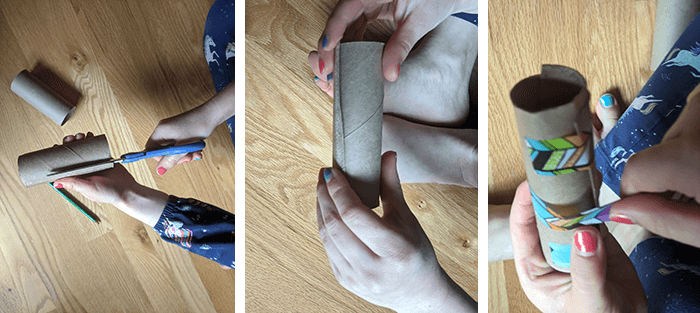 From there, it was simple for her to make the slits in the second tube, loop in the rubber bands, and tape them in place.


From start to finish, it took her about 15 minutes to assemble the cotton ball launcher all on her own (except for that one hole-punch assist). I loved it! Being able to do it "on her own" was a huge morale booster for her in the middle of a bad day — and a 15-minute break for me.
With the cotton ball launcher built, the launching began. I've never been so glad that my co-workers are parents, too, because Ben (who created this activity) nailed it with choosing the launch object to be a cotton ball! My daughter adored being able to launch the cotton ball at me, and since it is so lightweight and soft, getting hit with it barely even registers, which meant that I was perfectly fine being the target. A win for both of us.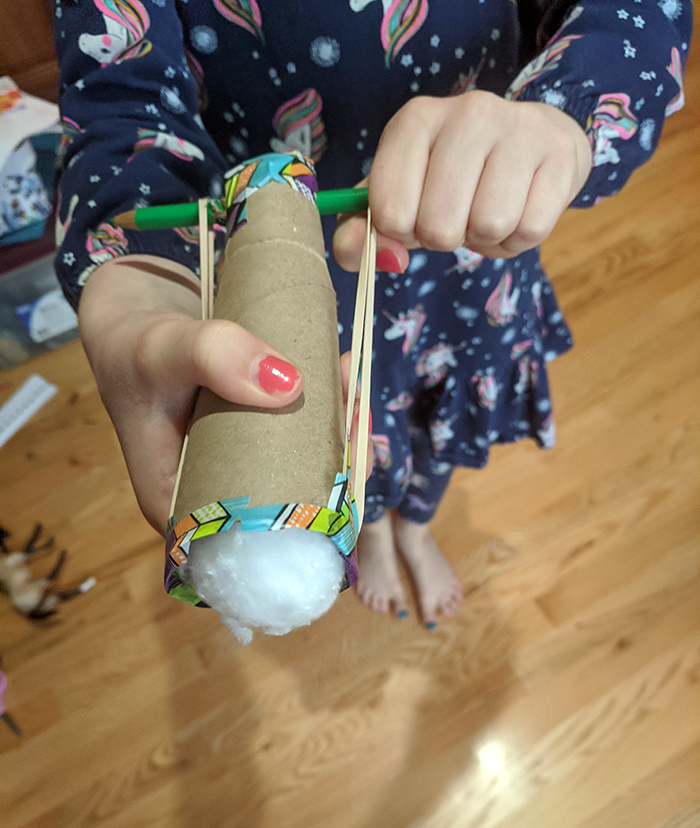 While she used me as target practice, I snuck in some conversation about the potential energy stored in the rubber band once it was stretched and the kinetic energy resulting from the release of the stretched rubber band. She cheerfully absorbed the lesson while aiming at me and launching the cotton ball over and over.
Eventually, she moved on from launching at me to launching at her brother (who took it quite well — again it's a cotton ball, so no big deal), her dad, and nearly every object in the house. Later, she came and thanked me for getting her a new toy. I laughed and reminded her that I hadn't bought her a toy, she'd made it herself. It was a good end to a bad day!
Other Alternatives for Launch Fun
The Make a Cotton Ball Launcher activity was a good pick for us today because we needed to blow off some steam, but it was also a great choice because it uses some of the empty toilet paper roll tubes we are accumulating. For other suggestions for simple hands-on science and engineering you can do with empty cardboard tubes, see 10 STEM Activities with Cardboard Tubes.
I highlighted several other rubber band-powered activities above, but part of the fun today was definitely in launching — and being able to launch at us safely. Another really good launcher activity for kids at home is the Build a Popsicle Stick Catapult. That activity also uses rubber bands. It is simple to assemble and small enough for kids to manipulate on their own. As long as you stick to lightweight objects like cotton balls, it can be lots of fun.
With any of these launcher-style STEM activities, setting up a game to see how many times kids can successfully launch into a designated target (like a basket, bucket, or even small trash can) can be a good approach to testing and using the launcher. If you have your kids keep track of how many times they hit or miss the target (their statistics), there are all kinds of simple math options you can add to maximize the educational value of the adventure. Plus, kids love competition. You can buy yourself some extra time by challenging them to "make it" a certain number of times or a certain number of times in a row (even harder). If the game seems too easy, lengthen the distance!
Whether it is on a good day or a bad day, we'd love to see pictures if your kids end up making cotton ball launchers, or any of the other rubber-band-powered items. Post a picture of what they make on social media and tag us. You can find us on Twitter, Facebook, and Instagram.
If this blog post was useful to you, please share it with other parents. Follow the links below to see what other science adventures we've been having at home.
View All Posts in this Series
Activity 17 - Cotton Ball Launcher
A science activity log is available as a Word document or as a Google doc for online convenience. (Just choose "File/Make a copy" to save it to your Google Drive.)
About the Author
Sandra, Science Buddies' Vice President of STEM education, holds a PhD in Genetics from Stanford University and has spent the last twelve years working on science education and STEM outreach. Right now, she's stuck working from her home in the Pacific Northwest with her husband, second grader, middle schooler, and two oddly noisy gerbils. She hypothesizes her sanity will hold as long as she gets a daily dose of sunshine.
Categories:
You Might Also Enjoy These Related Posts:
Explore Our Science Videos
Design and Launch Bottle Rockets
Do Veritasium's Helicopter Rope Experiment at Home
Ball Launcher: 2018 Engineering Challenge