Straw Siphon: Doing Fun Science at Home during School Closures (Activity #26)
Follow along with a Science Buddies parent who is using family STEM activities to keep her kids learning at home during the COVID-19 school shutdown. New posts every Monday, Wednesday, and Friday. Today's adventure... making a straw water siphon.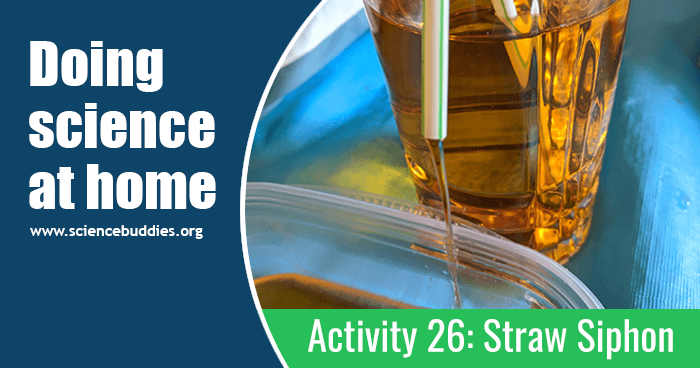 Moving Water
How much screen time have your kids had during the pandemic school closures? I confess, our typical screen time rules have gotten much laxer over the last 10 weeks! Earlier this week, my kids and I were feeling "done" — I really just wanted a moment to collapse on the couch, but I felt guilty proposing more screen time. Then I remembered my co-worker Amy's recent blog post about Global Problem Solvers: The Series, an animated show about teens banding together to solve problems using STEM.
I first watched the animated series about a year ago when Science Buddies started creating lessons for teachers to use with GPS: The Series. Thinking about how much I liked it, I decided this was my ticket to guilt-free screen time. After all, this video series is educational, inspirational, talks about real-world challenges, and has cool characters that use teamwork to solve problems (and we could use more teamwork and less squabbling in my house!). So, we settled down on the couch to watch Season One.
When it was over, my daughter (second grade) was super enthusiastic and immediately wanted to watch Season Two. My son (seventh grade) said it is "pretty good" — which, if you speak teenager, is a rave review. Each season is short, under 30 minutes, so watching these was a lot of fun, and it was interesting to hear my kids talk about the members of the GPS team, their skills, which team member they each liked most, and so on.
Nerd-mom that I am, when it came to choosing a science activity the next day, I decided to find one that connected to the show. Season One of GPS: The Series deals with the problem of transporting clean drinking water; in the show, the well pumps in Malawi are often broken, which makes it hard to get water. The theme of "how do you move water" seemed like an excellent tie-in and one that is inherently fun.
From a young age, most kids love playing with water, and the fun, particularly on a hot day, lasts even as they grow into teens. Here is the list of water-moving activities I considered for our family science adventure:
My Pick of the Day: A Straw Siphon
Of all the moving water activities, we opted to do Make a Straw Siphon. My reasoning was simple: knowing how to make and use a siphon can be downright handy. Have a work-study job that involves cleaning dozens of heavy aquatic tanks full of gallons of dirty water? Siphons make that chore a lot easier. You're a broke college student, and your roommate totaled her car but still has a full tank of gas? Siphon that liquid gold into your car!
A quick viewing of the video, plus the retelling of a few real-world times I've needed a siphon, had my children eager to try the activity.
We dug through our random collection of straws and managed to unearth a few bendy ones. From there, the kids gathered the glasses and water. Just as we did when testing our wire water striders, we opted to color our water both for fun and to make it easier to see.
In less than five minutes, we were ready to test. My daughter had the first turn. She plunged one end of the straw siphon into the cup and... nothing. Not a single drop of water came out. That's okay. Science is about troubleshooting. We tried a few more times, took another look at the video, and within ten minutes, we had the water flowing smoothly through our siphon. Here is what we learned:
Little fingers aren't the best at firmly plugging one end of the straw. It takes a bit of practice and sometimes even a parent showing by example.
The water in your cup should be as high as you can make it. To prevent spills, I recommend bringing a measuring cup or pitcher of water to the table and filling your cup to the brim there rather than trying to carry an overflowing cup.
Pinching the siphon into a sharp, upside-down V-shape makes the flow start more easily.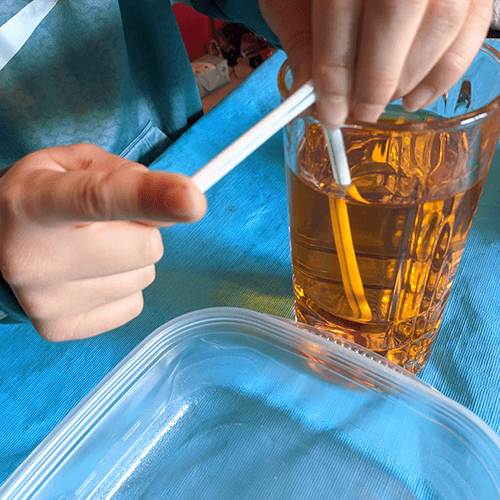 Once we got the siphon working, both kids had fun getting it to start a few times. We spent a few minutes making observations about flow rate and the level of water in each container when the siphon stopped flowing.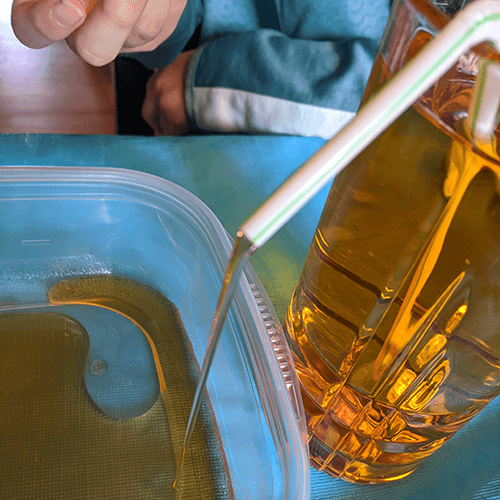 From there, we went on to try the second step — lengthening the siphon. This time neither kid had trouble getting the siphon started. They were both impressed with the larger volume of water that the longer siphon moved, and we read through the explanations at the end of activity together to understand the science behind it all.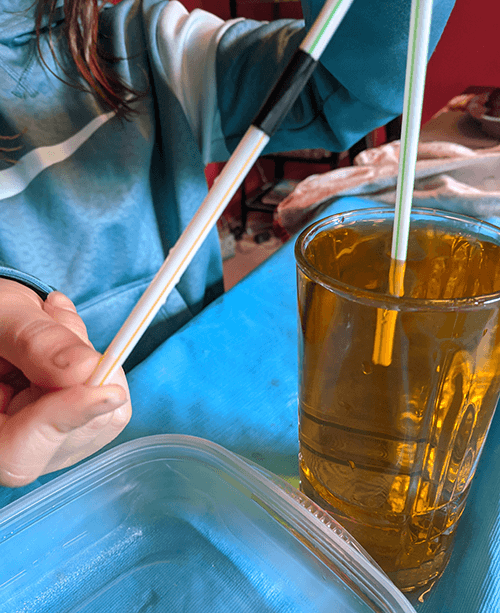 Overall, Make a Straw Siphon was a quick activity — perfect for a busy day — that taught a useful skill and provided twenty minutes of amusement. My daughter was proud enough of what she learned to drag her father over to see the siphon in action later in the day. I call that a win!
Tip: If your kids get really curious about siphons, be sure and watch the Make a Self-Starting Siphon video, too!
If your kids try making a siphon or any of the other water moving activities, we'd love to see. Post a picture of what they make on social media and tag us. You can find us on Twitter, Facebook, and Instagram.
If this blog post was useful to you, please share it with other parents. Follow the links below to see what other science adventures we've been having at home.
View All Posts in this Series
Activity 26 - Straw Siphon
A science activity log is available as a Word document or as a Google doc for online convenience. (Just choose "File/Make a copy" to save it to your Google Drive.)
About the Author
Sandra, Science Buddies' Vice President of STEM education, holds a PhD in Genetics from Stanford University and has spent the last twelve years working on science education and STEM outreach. Right now, she's stuck working from her home in the Pacific Northwest with her husband, second grader, middle schooler, and two oddly noisy gerbils. She hypothesizes her sanity will hold as long as she gets a daily dose of sunshine.
Categories:
You Might Also Enjoy These Related Posts:
Explore Our Science Videos
Separating Iron Filings from Sand
Squishy Circuits Introduction
Light-Tracking Robot: BlueBot Project #2