A STEM Videos Breather: Doing Fun Science at Home during School Closures (Activity #24)
Follow along with a Science Buddies parent who is using family STEM activities to keep her kids learning at home during the COVID-19 school shutdown. New posts every Monday, Wednesday, and Friday. Today's adventure... some family time with STEM videos.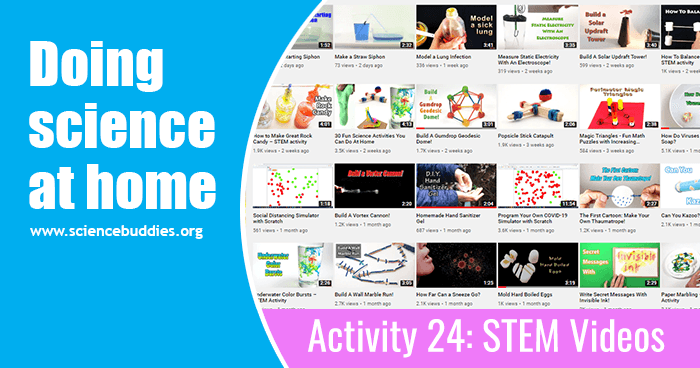 Family Time with STEM Videos
By now, it's a theme we all know: juggling work, family, a parent's role in remote learning, and the very real anxieties of the COVID-19 pandemic... it's a lot. This past weekend was Mother's Day, and I considered doing a bunch of different STEM activities with the kids to inspire all of you about the fun mementos you can make with your kids using simple science and engineering activities. We have a great collection of Mother's Day ideas here at Science Buddies even.
I wish that my kids had presented me with a beautiful, seed-filled bird feeder from a recycled milk jug or a string of beads made from milk plastic made at school. I would love to have flipped through a stick-person flip-book or twirled a retro thaumatrope that the kids had drawn at school and tucked away to present on Sunday morning. But, at the end of the week, I didn't have it in me to "engineer" my own Mother's Day science moment.
I think all parents who are juggling the extra demands at home during this ongoing pandemic need to give themselves a break. It is okay to stop, look around, breathe, and just be with your families or, even better, take a walk alone and get some fresh air. So this weekend, we didn't do a fancy hands-on project. But we did watch some STEM videos together.
My Pick of the Day: STEM Videos
I had both of my kids (second and seventh grade) make lists recently of activities they were most interested in doing. We've been working through that list, but there are new activities (and new videos) added every week at Science Buddies. So I knew there were some fun new activities that the kids might not have seen yet. I picked out a random mix of videos from activities that I've been considering or that are new, and we all gathered together and watched them. The videos on our YouTube channel are short. Most are 2-3 minutes long, which makes them easy to watch and short enough to keep kids focused.
We watched the following videos. We talked a little bit about what we saw and made some tentative plans about things we might try in upcoming weeks.
All of the videos above connect with activities here at Science Buddies: Thaumatrope, Make a Straw Siphon, Rock Candy, Build A Wall Marble Run, Measure Static Electricity With An Electroscope!, and Build a Bird Feeder.
At some point in this Doing Science at Home adventure, we might still try some of the activities highlighted on the Mother's Day roundup. (We've already done several of them.) But for now, I know we had a wonderful Mother's Day. We'll all remember the time we spent together this weekend during the pandemic, and I hope the kids will always look back on this time and also remember the fun hands-on science activities we tried. We're learning here in my house, but we are also building family memories.
If your kids watch science videos together, we would love to hear what you watch and which videos especially spark interest for your family. You can find us on Twitter, Facebook, and Instagram.
If this blog post was useful to you, please share it with other parents. Follow the links below to see what other science adventures we've been having at home.
View All Posts in this Series
Activity 24 - STEM Videos
A science activity log is available as a Word document or as a Google doc for online convenience. (Just choose "File/Make a copy" to save it to your Google Drive.)
About the Author
Sandra, Science Buddies' Vice President of STEM education, holds a PhD in Genetics from Stanford University and has spent the last twelve years working on science education and STEM outreach. Right now, she's stuck working from her home in the Pacific Northwest with her husband, second grader, middle schooler, and two oddly noisy gerbils. She hypothesizes her sanity will hold as long as she gets a daily dose of sunshine.
Categories:
You Might Also Enjoy These Related Posts:
Explore Our Science Videos