Building Toys: Doing Fun Science at Home during School Closures (Activity #5)
Follow along with a Science Buddies parent who is using family STEM activities to keep her kids learning at home during the COVID-19 school shutdown. New posts every Monday, Wednesday, and Friday. Today's adventure... playtime and science time converge when building parachutes for favorite toys.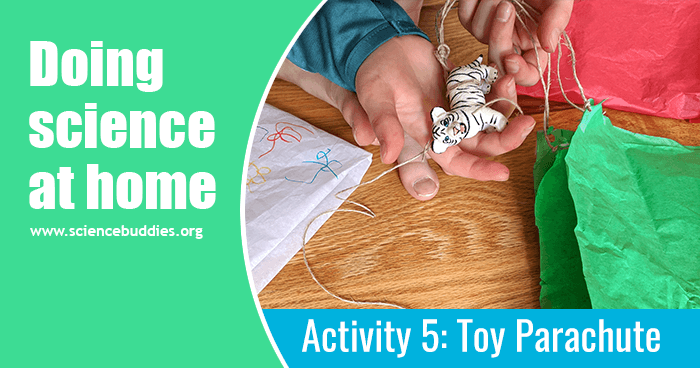 Building Toys Drives Away Boredom
"I'm bored" is one of those sentences I hate as a parent. It ranks right up there with "Are we there yet?". These days I'm a bit more empathetic to the "I'm bored" though. It's been a long time without a playdate. All the toys in our house have been taken out and used in the last two weeks — even the ones that had been bundled up and put in the garage because they were outgrown. And I'm sick of pretending to be a dragon owner, a Pokémon master, a monster to be battled, and a brand-new owner of a cheetah cub with magical abilities.
What always freshens things up is a new toy and anticipating it is half the fun. This means that a project to build your own toy is a sure cure for boredom — at least for a day or two.
Remember back in the first installment of this blog series when I said we'd be doing STEM (science, technology, engineering and math)? Well, we've arrived at the "E."
Toy building is engineering. It involves deciding what you want to build, designing it, building it, and tinkering to improve it until your toy is just right. The road to the final toy product is full of creativity and problem solving — both excellent skills to master.
Here are a few engineering activities where the end product is a fun toy:
My Pick of the Day: Making a Toy Parachute
I've already covered in the kite post how much fun it is to make things fly. Making them fall is equally fun. The Make a Parachute activity combines both of these things!
My second grader and I started out by watching the video on how to build the parachutes.
Once she understood the concept, I asked her to gather the animals (she has a varied collection of toy animal figurines she loves to play with) she wanted to give parachute rides to. I mistakenly thought she'd take a while choosing, thus allowing me to start a couple of other tasks — no such luck. So, when she came back in a flash with an armful of animal figurines, I improvised and added a step to the activity. I asked her to play a guessing game. Her goal was to line up the animals in what she thought was heaviest to lightest.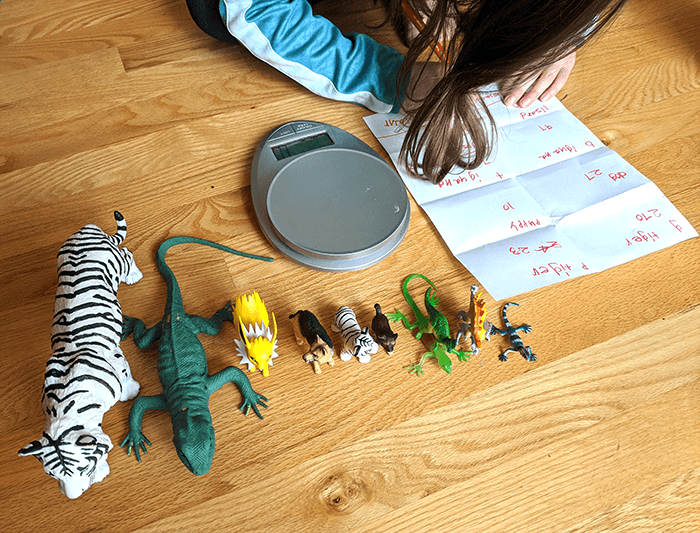 Once she was done, she could weigh them on our kitchen scale, record the weight of each, and then see if her lineup was correct. This turned out to be a brilliant addition as it took up time, entertained her, and along the way she learned how to use the scale properly.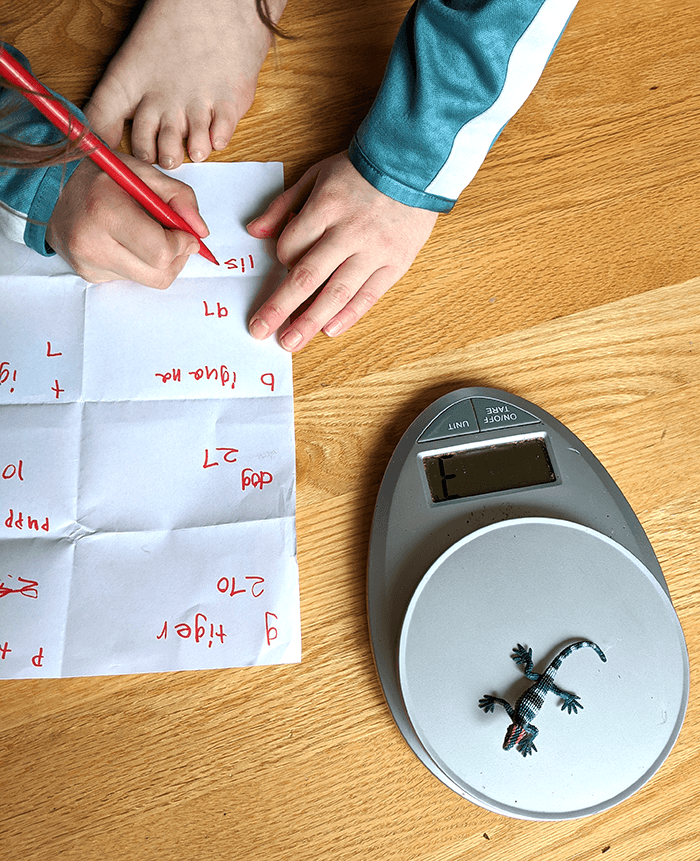 Finally, we were both ready to do some building. My thought when reviewing the activity the night before was that she'd need a lot of help with the building — it turns out I was wrong. She was determined to do it on her own and pausing and re-watching the video as she went along allowed her to do nearly every step herself. A few of the steps, however, were right on the cusp of her eight-year-old motor-skills. In particular, she found punching the holes through the layers of tape and tissue paper to be frustrating as the circles didn't punch out easily (although that could also be the fault of our ancient hole punch). Measuring and cutting the string was also a bit challenging, and they certainly weren't the same size — but it all worked out.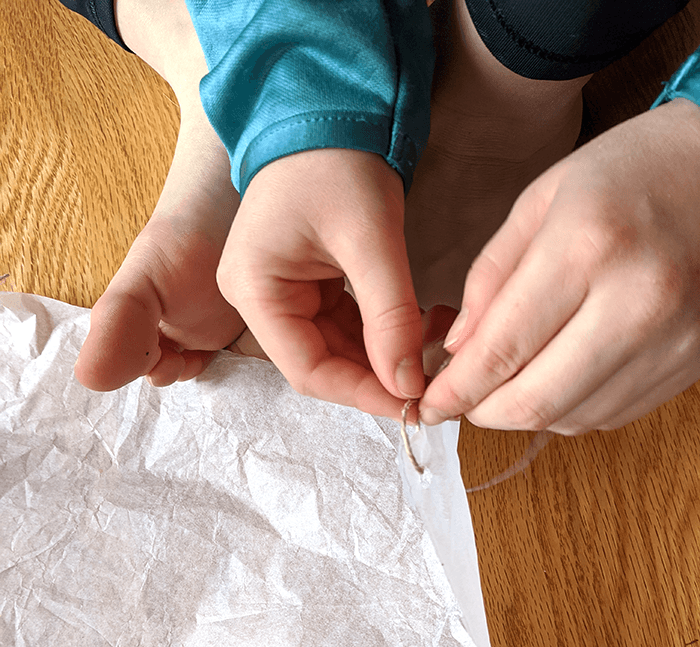 In the end she made two parachutes and I helped her finish off a third — each a different size. Of course, the best part was playing with the parachutes. Going back to her lineup of animals, she chose a few to try as passengers, including a particularly light 3g lizard, a 10g puppy, and a 27g Bengal tiger cub. Worried that they might crash-land too hard, she set up a soft target (a bean bag chair) on the stone landing at the bottom and flung her animals, parachutes attached, from the upstairs banister.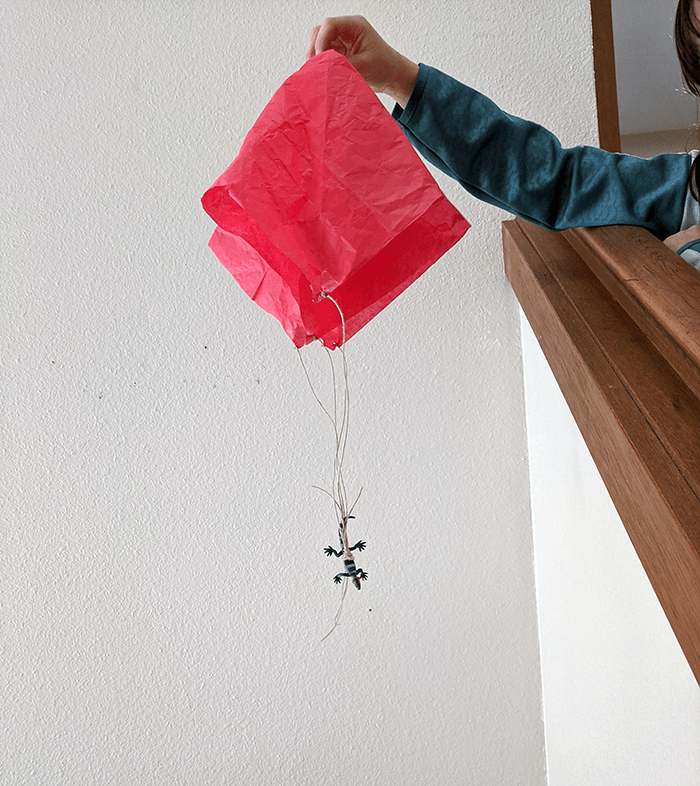 For the rest of the day, she tried different ways of launching them, compared which parachute size worked best, and made up stories about why these animal characters were parachuting — and not once did I hear "I'm bored."
If your kids try making toy parachutes or building any of the other toys I've listed, I'd love to hear how it goes for them. As always, if you have questions or comments, drop me an email.
If this blog post was useful to you, please share it with other parents. Follow the links below to see what other science adventures we've been having at home.
View All Posts in this Series
Activity 5 - Building a Toy Parachute
A science activity log is available as a Word document or as a Google doc for online convenience. (Just choose "File/Make a copy" to save it to your Google Drive.)
About the Author
Sandra, Science Buddies' Vice President of STEM education, holds a PhD in Genetics from Stanford University and has spent the last twelve years working on science education and STEM outreach. Right now, she's stuck working from her home in the Pacific Northwest with her husband, second grader, middle schooler, and two oddly noisy gerbils. She hypothesizes her sanity will hold as long as she gets a daily dose of sunshine.
Categories:
You Might Also Enjoy These Related Posts:
Explore Our Science Videos
Fun Physics with Your Cell Phone
Why Do Apples and Bananas Turn Brown? - STEM activity