Dive Right In: Doing Fun Science at Home during School Closures (Activity #1)
Follow along with a Science Buddies parent who is using family STEM activities to keep her kids learning at home during the COVID-19 school shutdown. New posts every Monday, Wednesday, and Friday. First up... STEM fun with washable paint and good handwashing.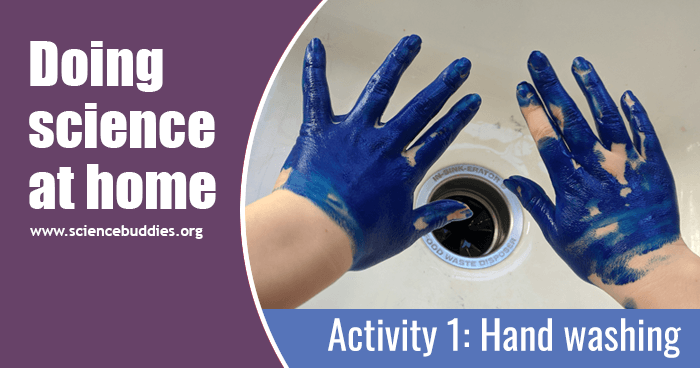 Making the Best of the Situation at Hand
I'm a scientist, a geneticist, in fact. But I'm also a parent, like many of you. I have two kids at home, ages 8 and 13. And since it was first announced that schools would be closing in my area, with much of the U.S. to follow, I've been scrambling to figure out plans for my household, ways to help teachers at my school, and, more broadly, ways to help parents and teachers around the world because Science Buddies has free resources that really can help parents and teachers.
If you're like me and stuck at home with your kids, you're juggling a lot right now, like trying to figure out how to keep the at-home-learning going while school is closed, how to keep your kids entertained, how to find a moment of true peace and privacy when everyone is home together all the time, and how to prevent family fights. And that's just the easy stuff.
Sorry, I'm fresh out of advice on most of those topics, but I am committed to using simple science activities to help with the first two — and I invite you to join me! Specifically, I'm talking about hands-on science learning (well, STEM really, since we'll throw some technology, engineering, and math in along with the science) that you can do with your kids or set your older kids to tackle on their own.
STEM can be simple to do from home using what you have on hand. You can't really do it wrong. You can do it better, but you can't mess it up. Doing STEM at home doesn't have to be complicated, and you don't have to have a science background to do science activities with your kids.
There are many benefits to doing family science, but right now, in the middle of a pandemic, these rise to the top: doing STEM with kids teaches them while also keeping them entertained and occupied. These are things I believe and things we at Science Buddies tell families all year long, in the heathiest of times. So, for now, while schools are closed, I am putting family STEM to the test and embarking on a "learning science at home" adventure with my kids.
I hope you'll join me!
Stalling Out on Planning and Diving Right In
I had a million great ideas and plans popping into my head when I decided to start this home science adventure in the face of school closures. I told myself that I would plan it all out, evaluate what materials I had at home, make a great learning sequence... and then, somewhere in there, four days flew by with lots of pandemic news but no action.
So, here's the new plan: we're diving right in. If you're doing the same at your house, here is my advice:
Quickly browse our library of hands-on STEM activities, or browse our YouTube channel.
Stop on the first activity that interests you and your kids and that you have the materials for already at home. Some easy possibilities include:
Decide if you want to have your kid(s) document the activity in a simple activity log (feel free to modify mine). (Tip: the simple activity log is also available as a Google doc for online convenience. Just choose "File/Make a copy" to save it to your Google Drive.)
Gather the materials and then jump right in and follow the instructions to do the activity together. (If there is a video, watch that first as an overview of the activity.)
Review the "What Happened" section (at the bottom of the Instructions tab) for a straightforward explanation of what you should have observed while doing the activity and the science behind it. For a more in-depth science explanation (a good addition for older kids), also read the "Digging Deeper" section on the Explore More tab.
Be sure and prioritize the fun. Let's be realistic, I'm not a classroom teacher, and I never wanted to be one. Yes, these are educational activities, but they are also fun, and that's something we all need right now. Seriously, enjoy the activities together, discuss them over dinner (silver lining: it's easier to schedule family dinner these days), and don't sweat trying to make this the "perfect" learning opportunity.
My Pick of the Day: Hand Washing
For our first activity, I chose the How Well Do You Wash Your Hands? activity. I've been talking about good hand washing for weeks now to the point where no one in my house wants to hear the Happy Birthday song again, but even so this activity was eye opening for my second grader. By slathering washable Crayola paint all over her hands and experimenting with how much time, soap, and scrubbing it took to get rid of it, the importance of thoughtful hand washing really clicked. The Mom-bonus was that she even realized the value of cutting her nails shorter so that paint (and germs!) can't hide in there.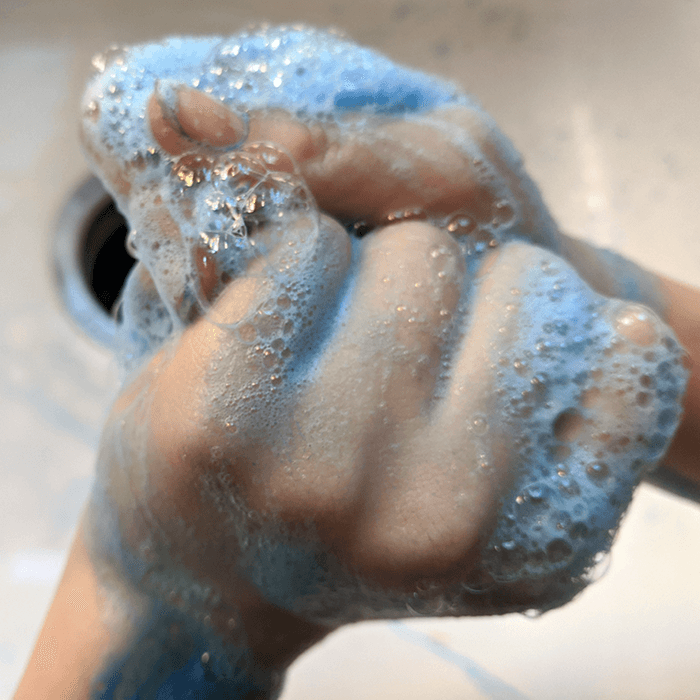 This was a quick, fun, and timely activity, just right to kick-start our doing science-at-home adventure. I did make and print out a simple activity log, which we talked about and she filled in as we went along (before she covered her hands in paint and then after she washed them clean). I made the choice to use the log because it fulfilled another educational goal for us, daily writing, as well as helped her slow down and think about the steps of the activity and what she learned.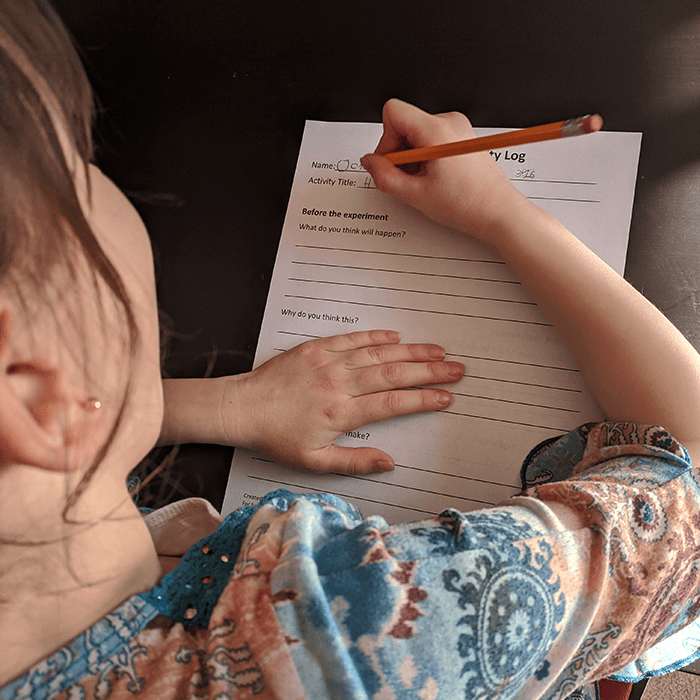 Come back and see what science activity we tackle next! If you have questions, comments, or if you are starting your own science-at-home adventure, send an email and let me know what fun STEM you are doing with your kids. And if this post was useful to you, please share it with other parents.
To learn more about our STEM activities, see Simplified STEM Activities Help Fill Gap for Online, Remote, Hybrid Learning.
View All Posts in this Series
Activity 1 - Getting Started and Hand Washing
A science activity log is available as a Word document or as a Google doc for online convenience. (Just choose "File/Make a copy" to save it to your Google Drive.)
About the Author
Sandra, Science Buddies' Vice President of STEM education, holds a PhD in Genetics from Stanford University and has spent the last twelve years working on science education and STEM outreach. Right now, she's stuck working from her home in the Pacific Northwest with her husband, second grader, middle schooler, and two oddly noisy gerbils. She hypothesizes her sanity will hold as long as she gets a daily dose of sunshine.
Categories:
You Might Also Enjoy These Related Posts:
Explore Our Science Videos
Build a Water Sprinkler Toy
3D Printing with Sand and Glue (no 3D printer required!)
Line-Tracking Robot: BlueBot Project #3