Wizards and Magic: Summer of STEM (Week 3)
Join Science Buddies this summer for virtual summer camp! Each week, we'll highlight fun STEM themes for kids of all ages, including suggestions for simple hands-on activities, book picks, and more. We'll keep you inspired all summer with creative and innovative science and engineering activities — for free. This week: wizard- and magic-themed science!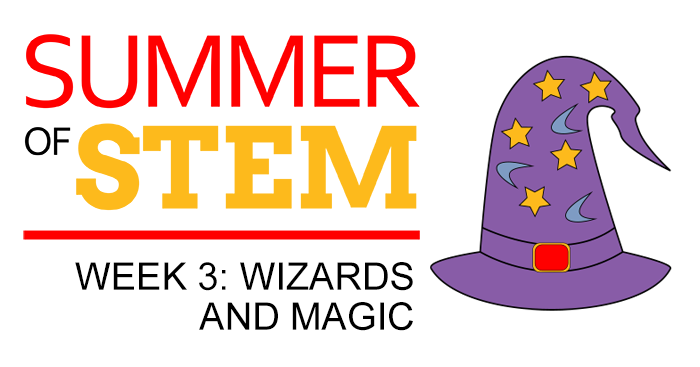 Wizards & Magic STEM
Week 3 brings out the wizard in all of us! If your kids are fans of stories about wizards and magic, from Merlin to Harry Potter, then this week's Summer of STEM lineup is sure to be a favorite. This week features a variety of fun, fizzing, bubbling, foaming, and mysterious hands-on science and engineering activities that you can tie in with favorite stories about wizards and magic. Maybe there are even mystical unicorns or medieval dragons and other fantastic beasts that make their way into this week's exploration and reading. With an engaging mix of chemistry, physics, electronics, and creative engineering activities, kids will have fun making things, mixing things, and generally practicing their awesome STEM wizardry. Wizard's robes are optional, but if your kids are Merlin fans, making or decorating a wizardly cape or robe might be a perfect add-on and a great way to inspire imaginative storytelling to go along with this week's theme!
Tip: This downloadable PDF contains a summary of the ideas for Week 3. Print this out and use it as a check-list for activities you try this week! You can also print and use our simple activity log (PDF) if you want to encourage your younger students to reflect on their activities.
ASK: Science Questions for Week 3
Use these questions to prompt conversation and reflection this week about the science behind wizard- and magic-themed science activities:
DO & EXPLORE: Wizard- and Magic-themed Activities
WATCH: Videos for Week 3
These videos demonstrate activities highlighted for Week 3's Wizards and Magic theme:
These videos are not from Science Buddies but tie in with this week's theme:
EXPLORE with KITS
The following Science Buddies Kits fit in with this week's Wizards and Magic theme. These science and engineering kits provide the specialty materials kids need for a variety of fun explorations, including robotics, computer programming, and electronics:
Learn more about Science Buddies Kits and see our 12 Science Kits for Summer Science Experiments and Discovery recommendations.
READ: Books to Pair with Week 3's Wizards and Magic Theme
For other great STEM stories for summer reading, see our Book list for science-filled summer reading! post. Also, don't miss this roundup of creative STEM activities for storytelling and imaginative play.
Summer of STEM Posts
Categories:
You Might Also Enjoy These Related Posts:
Explore Our Science Videos
Light-Tracking Robot: BlueBot Project #2
Is the Egg Raw or Cooked? STEM activity