Strange but True: Summer of STEM (Week 8)
Join Science Buddies this summer for virtual summer camp! Each week, we'll have a fun STEM theme for kids of all ages, suggestions for simple hands-on activities, book picks, and more. With our Summer of STEM, we'll keep you and your kids inspired all summer with creative and innovative science and engineering activities — for free. This week: 15 interesting and exciting explorations in the category of "strange but true" science.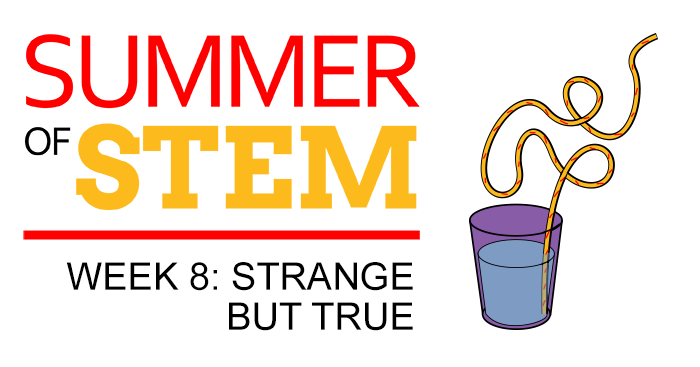 Strange but True Science
If you and your family have ever watched MythBusters, you know that there are all kinds of science claims that sound amazing but, when put to the test, don't stand up as scientifically true. The MythBusters team (led by Adam Savage and Jamie Hyneman) always took experiments to the max to really push at the borders of what is and isn't possible or what does or doesn't work. With more than 290 episodes, the MythBusters team entertained viewers for years. That was TV, and you had a team of STEM-savvy hosts to guide you through the science behind what you were seeing. Unfortunately, not all the cool science you see or hear about online is real.
Curiosity is awesome. Science projects even start with scientists asking questions about how things work or why things work a certain way. We all have questions about what will or won't work, and putting our questions to the test with a science or engineering experiment is a great way to learn by doing and observing. Curiosity can even drive invention and innovation. But it's easy to find science activities that look super cool in a video and yet don't work when you try them at home. It can be really disappointing when that happens. (Did your kids ever try to make a Mt. Dew glow stick or create a volcano with Cheetos® and Tic Tacs® based on memes or videos they saw online?)
This week, we have 15 cool activities from our scientists that we know work. With these simple science and engineering activities, kids can see "strange but true" science in action!
Tip: This downloadable PDF contains a summary of the ideas for Week 8. Print this out and use it as a check-list for activities you try this week! You can also print and use our simple activity log (PDF) if you want to encourage your younger students to reflect on their activities.
ASK: Science Questions for Week 8
Use these questions to prompt conversation and reflection this week about the science behind the "strange but true" science activities:
DO & EXPLORE: Strange but True Science Activities
TRY THIS: Hand Washing Challenge!
Is it true that the longer you wash your hands, the cleaner they will be? It takes a bit more than just washing "long enough," but the longer you wash, the more time you have to do a really good job. Paired with some review of recommended tips for hand washing and then some practice with water and washable paint, kids can build strong hand washing skills and make more effective hand washing a habit.
WATCH: Videos for Week 8
These videos demonstrate activities highlighted for Week 8's Strange but True Science theme:
These videos (and video channels) are not from Science Buddies but tie in with this week's theme:
EXPLORE with KITS
The following Science Buddies Kits fit in with this week's Strange but True Science theme. These science and engineering kits provide the specialty materials kids need for a variety of fun electronics explorations:
Learn more about Science Buddies Kits and see our 12 Science Kits for Summer Science Experiments and Discovery recommendations.
READ: Books to Pair with Week 8's Strange but True Science Theme
For other great STEM stories for summer reading, see our Book list for science-filled summer reading! post. Also, don't miss this roundup of creative STEM activities for storytelling and imaginative play.
Summer of STEM Posts
Categories:
You Might Also Enjoy These Related Posts:
Explore Our Science Videos
Build a K'Nex® Differential
How to Make a Simple Refracting Telescope (Monocular)