Superhero Science: Summer of STEM (Week 7)
Join Science Buddies this summer for virtual summer camp! Each week, we'll have a fun STEM theme for kids of all ages, suggestions for simple hands-on activities, book picks, and more. With our Summer of STEM, we'll keep you and your kids inspired all summer with creative and innovative science and engineering activities — for free. This week: up, up, and away with superhero science!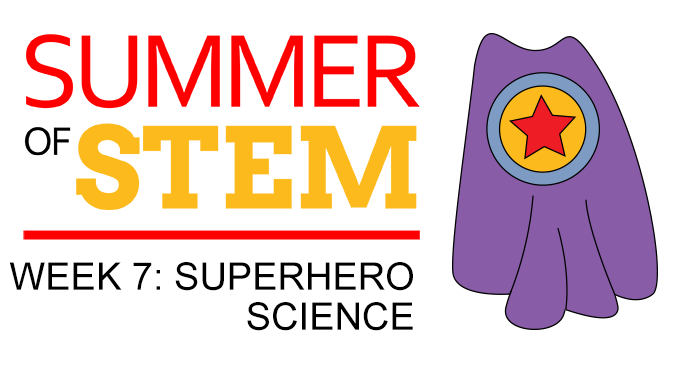 Superhero STEM
Superhero stories appeal to people of all ages. Whether they fly, climb, jump, shapeshift, have super strength, control the elements, or have other superpowers, superheroes use special skills and abilities to solve problems and save the day.
The activities in Week 7 of our Summer of STEM tie in with superhero storylines and mythology. We don't have activities that can really help kids fly, shapeshift, or even climb tall buildings, but all of these activities play nicely with classic superhero themes. We hope your kids have fun trying these activities as part of their imaginative play and worldbuilding this week! They'll be using and learning more about science and engineering while spending time playing creatively. (For older kids, we have extra recommendations this week for exploring electronics and e-textiles.)
Tip: This downloadable PDF contains a summary of the ideas for Week 7. Print this out and use it as a check-list for activities you try this week! You can also print and use our simple activity log (PDF) if you want to encourage your younger students to reflect on their activities.
ASK: Science Questions for Week 7
Use these questions to prompt conversation and reflection this week about the science behind the superhero-themed science activities:
Who are some of your favorite superheroes? What special abilities or powers do they have?
Can you simulate or explore those abilities using science or engineering? Why or why not?
Which science or engineering activity did you try? What did you learn?
What kinds of STEM jobs are related to the superhero STEM activities you explored this week?
DO & EXPLORE: Superhero STEM Activities
NEXT STEPS: Ideas for Older Students
Older students can delve more deeply into the superhero mythology with more advanced projects that focus on engineering design and the development of high-tech costumes, capes, and masks. The following projects all use electronics and circuit-building in ways that can challenge and inspire kids to brainstorm and create their own innovative solutions:
LED Dance Glove: Get the Party Started with Your Own Interactive Light Show: in this project, students use conductive thread to sew wearable circuits for light-up gloves. How could this kind of circuitry and e-textiles approach be used in superhero costume or uniform design? (See the LED Traffic Glove: Build a Safety Device to Direct Traffic project to experiment with adding switches to a wearable circuit.)
Make a Heart Rate Monitor: in this project, students use Arduino™ to brainstorm, design, build, and program a heart rate monitor. The sample shown is a "headband" model that lights up. How could this approach be used to create other helpful wearable monitoring tools?
Sewing Electronics: Wearables that Light Up: building on the wearable circuits described in the LED Dance Glove: Get the Party Started with Your Own Interactive Light Show project, kids can sew their own light-up patches for bookbags, backpacks, jackets, or other uses. Extending this kind of project to add other features (like sensors, better on-off mechanisms, etc.) is something kids can try as they customize their own e-textiles. For other examples, see: Wearable Electronics: Sewing an LED Patch and Red, White, and Blue with Wearables and Soft Circuits.)
WATCH: Videos for Week 7
These videos demonstrate activities highlighted for Week 7's Superhero STEM theme:
EXPLORE with KITS
The following Science Buddies Kits fit in with this week's Superhero Science theme. These science and engineering kits provide the specialty materials kids need for a variety of fun explorations, including robotics, computer programming, and electronics:
Learn more about Science Buddies Kits and see our 12 Science Kits for Summer Science Experiments and Discovery recommendations.
WATCH: Teen Team with STEM Superpowers
Global Problem Solvers: The Series is a free animated series that features a team of teens each with a real-world superpower. The GPS team works together to use STEM-based problem solving and social entrepreneurship to create solutions to problems. The diverse team of characters in the series emphasizes the value in different kinds of skills and abilities and inspires kids to find and use their own superpowers.
If you wanted GPS: The Series Season 1 as part of Week 6's Water Play theme, pick up with Season 2 this week to continue the fun as the GPS team helps create a solution for schools that have been closed due to a local hurricane. Watch Season 2 below or view the individual mini-episodes.
Global Problem Solvers: The Series is a free animated video series from Cisco's Corporate Social Responsibility team. Videos are also available on the Global Problem Solvers: The Series YouTube channel. (At YouTube, all videos are available in English, Spanish, French, and Hindi.)
To learn more about using this animated series with students, see 5 Reasons Global Problem Solvers: The Series Will Inspire STEM Interest in Your Students and Use the Free Global Problem Solvers Video Series with Kids at Home.
READ: Books to Pair with Week 7's Superhero STEM Theme
For other great STEM stories for summer reading, see our Book list for science-filled summer reading! post. Also, don't miss this roundup of creative STEM activities for storytelling and imaginative play.
Summer of STEM Posts
Week 7 - Superhero Science
Categories:
You Might Also Enjoy These Related Posts:
Explore Our Science Videos
Paper Roller Coasters - Fun STEM Activity!
Aluminum Foil Boat Design - STEM Lesson Plan
Solubility Science – STEM Activity