Gadgets & Gizmos: Summer of STEM (Week 2)
Join Science Buddies this summer for virtual summer camp! Each week, we'll highlight fun STEM themes for kids of all ages, including suggestions for simple hands-on activities, book picks, and more. We'll keep you inspired all summer with creative and innovative science and engineering activities — for free. This week: gadgets and gizmos for makers, inventors, and innovators.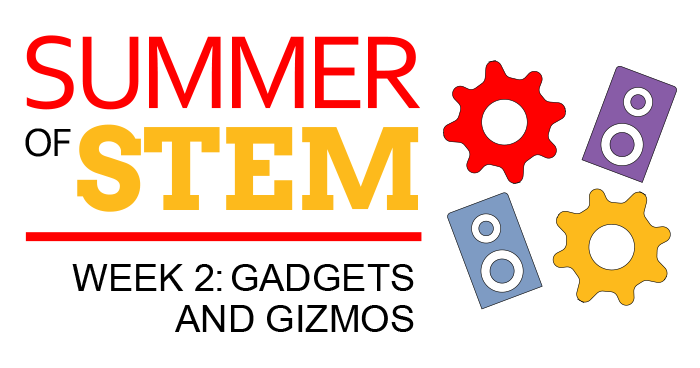 Gadgets & Gizmos Maker-style STEM
Some of the best toys and tools are ones you can make yourself! When kids combine creativity with engineering, they can design and build almost anything!
Is the bubble wand that comes in the bottle as good as it gets? Wouldn't a really, really long straw be more fun? Does someone you know need a way to hold or prop up a cell phone? What does a robot hand look like? Does it matter what it needs to do? These are all questions kids can explore this week!
This week's Gadgets and Gizmos theme features science and engineering activities that invite kids to explore gears, chain reactions, and the process of designing and making useful items like a phone stand and a back scratcher. These fun invention-based activities are creative, build confidence, and empower kids to see themselves as inventors, innovators, and engineers! This week's activities also use physics, electronics, and other STEM concepts!
Engineering projects and activities can offer hours of creative fun. Things may not always work out the first time, so young inventors may have to troubleshoot their devices and inventions and try again. Once something works, it's good to ask can it be even better? What changes or improvements could you make? Making things even better is part of the fun of engineering!
Creative young inventors might even find ways to connect the activities below to make even bigger chain reactions and fun Rube Goldberg-like machines!
Tip: This downloadable PDF contains a summary of the ideas for Week 2. Print this out and use it as a check-list for activities you try this week! You can also print and use our simple activity log (PDF) if you want to encourage your younger students to reflect on their activities.
ASK: Science Questions for Week 2
Use these questions to prompt conversation and reflection this week about the science behind designing, engineering, inventing, and improving gadgets and gizmos:
Do you like to make and build things? Or do you prefer to experiment to see how things work?
How is engineering a new product similar to conducting an experiment? How is it different?
Sometimes engineers invent new things, and sometimes they improve existing things. What does it mean to innovate?
Think about the last thing you built. Did your first attempt work out perfectly? If not, what did you do?
After you build a product that works, is the engineering process finished? Why or why not?
Which science or engineering activity did you try? What did you learn? What would you like to try next?
Do you have an idea for a product you think would be really useful? Could you make it yourself? How would you start?
What kinds of STEM jobs are related to designing and building new products and toys?
DO & EXPLORE: Gadgets & Gizmos Activities
WATCH: Videos for Week 2
These videos demonstrate activities highlighted for Week 2's Gadgets & Gizmos theme:
The following video doesn't match an activity featured this week, but this fun (and glitter-filled!) video highlights the engineering spirit and the way engineering-minded people use their STEM skills to create devices for all kinds of reasons:
EXPLORE with KITS
The following Science Buddies Kits fit in with this week's Gadgets and Gizmos theme. These science and engineering kits provide the specialty materials kids need for a variety of fun explorations, including robotics, computer programming, and electronics:
Learn more about Science Buddies Kits and see our 12 Science Kits for Summer Science Experiments and Discovery recommendations.
READ: Books to Pair with Week 2's Gadgets and Gizmos Theme
For other great STEM stories for summer reading, see our Book list for science-filled summer reading! post. Also, don't miss this roundup of creative STEM activities for storytelling and imaginative play.
Summer of STEM Posts
Week 2 - Gadgets & Gizmos
Categories:
You Might Also Enjoy These Related Posts:
Explore Our Science Videos
DIY Mini Drone Part 5: Analog Joystick Control
Separating Iron Filings from Sand
Make a Hygrometer to Measure Humidity – STEM activity