Water Play: Summer of STEM (Week 6)
Join Science Buddies this summer for virtual summer camp! Each week, we'll have a fun STEM theme for kids of all ages, suggestions for simple hands-on activities, book picks, and more. With our Summer of STEM, we'll keep you and your kids inspired all summer with creative and innovative science and engineering activities — for free. This week: make a splash with water play and water-based science experiments!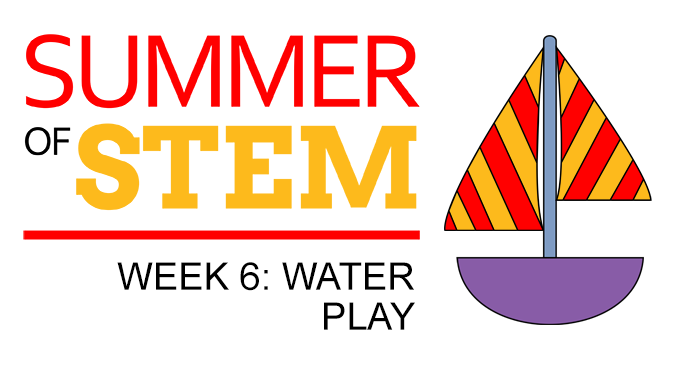 Water Play Science
Week 6 focuses on science and engineering activities that float, sprinkle, splash, sink, siphon, and more. All of these activities can take advantage of a bucket or container of water to bring science and engineering concepts to life. For kids who love boats or building, there are multiple ways to compare boats, race boats, and get innovative with the engineering and design of toy boats. Kids can also experiment this week with "moving" water from one container to another as they explore siphons and even build their own classic Archimedes screw. Water play is, of course, especially fun when it's really hot outside. Sprinkler-type toys can be an exciting way to get "a little" (or a lot) wet, and activities this week provide fun opportunities to experiment, from poking holes in recycled plastic bottles to designing and building a life-size sprinkler toy in the backyard!
Tip: This downloadable PDF contains a summary of the ideas for Week 6. Print this out and use it as a check-list for activities you try this week! You can also print and use our simple activity log (PDF) if you want to encourage your younger students to reflect on their activities.
ASK: Science Questions for Week 6
Use these questions to prompt conversation and reflection this week about the science behind water-themed science activities:
Designing and building boats so that they don't sink is important! What parts of a boat make a difference in how a boat floats?
Even if two objects look similar, why might one of them sink and one of them float?
What happens to the height of water in a container when an object is submerged in the water?
What does it mean to siphon something from one place to another?
Which activity did you try this week? What did you learn?
Can you combine what you learned to make a fun water-based toy? What would it be?
What kinds of STEM jobs are related to the "water play" STEM activities you explored this week? Can you list jobs for both scientists and engineers that involve water?
DO & EXPLORE: Water Play Science Activities
Design a Sprinkler System for Water Play!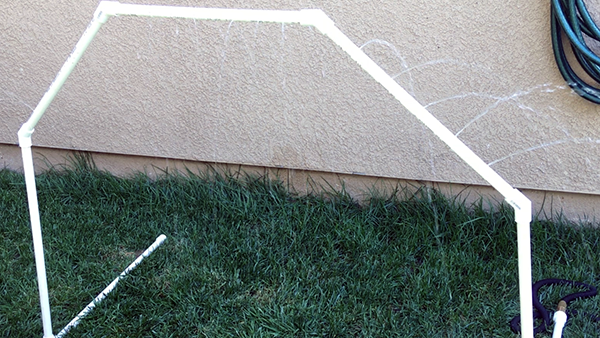 If you have space outdoors, building your own sprinkler system from PVC pipes is a super way to design your own, custom, life-sized water toy! How your sprinkler works is, ultimately, up to you! Will your design be one you run under? Or will your sprinkler be one you can run by to get wet? The Build a Water Sprinkler Toy activity has all the information you need to get started designing and building your own water toy for the backyard. As summer heats up, this might be a great way to cool down!
WATCH: Videos for Week 6
These videos demonstrate activities highlighted for Week 6's Water Play theme:
These videos are not from Science Buddies but tie in with this week's theme:
Watch Global Problem Solvers: The Series!
Global Problem Solvers: The Series is an animated video series from Cisco's Corporate Social Responsibility program. Featuring a diverse team of teens, each with their own special strenths and skills, GPS: The Series emphasizes the value of teamwork, the application of STEM for problem solving, and the importance of social entrepreneurship to create sustainable solutions within communities. Free and available for online viewing in a browser, GPS: The Series offers two seasons (14 mini-episodes) of exciting STEM-powered content for students.
Season 1 of GPS: The Series is an awesome fit for this week's Water Play theme, but in Season 1, water isn't all fun and games. Access to clean water is a challenge for the people of Malawi. The GPS teens work together to troubleshoot the problem and then brainstorm and implement a sustainable solution to help the village. After watching Season 1, kids might be even more intrigued by the water siphon and Archimedes screw activities highlighted this week.
You can watch the full 25-minute Season 1 below, or you can use the seven mini-episodes to watch in smaller segments.
Videos are also available on the Global Problem Solvers: The Series YouTube channel. (At YouTube, all videos are available in English, Spanish, French, and Hindi.)
To learn more about using this animated series with students, see 5 Reasons Global Problem Solvers: The Series Will Inspire STEM Interest in Your Students.
EXPLORE with KITS
The following Science Buddies Kits fit in with this week's Water Play theme. These science and engineering kits provide the specialty materials kids need for hands-on science explorations, including chemistry and electronics:
Learn more about Science Buddies Kits and see our 12 Science Kits for Summer Science Experiments and Discovery recommendations.
READ: Books to Pair with Week 6's Water Play Theme
For other great STEM stories for summer reading, see our Book list for science-filled summer reading! post. Also, don't miss this roundup of creative STEM activities for storytelling and imaginative play.
Summer of STEM Posts
Categories:
You Might Also Enjoy These Related Posts:
Explore Our Science Videos
Make a Whirlybird from Paper