Artists and Makers: Summer of STEM (Week 4)
Join Science Buddies this summer for virtual summer camp! Each week, we'll have a fun STEM theme for kids of all ages, suggestions for simple hands-on activities, book picks, and more. With our Summer of STEM, we'll keep you and your kids inspired all summer with creative and innovative science and engineering activities — for free. This week: creative activities for artists, makers, and innovators!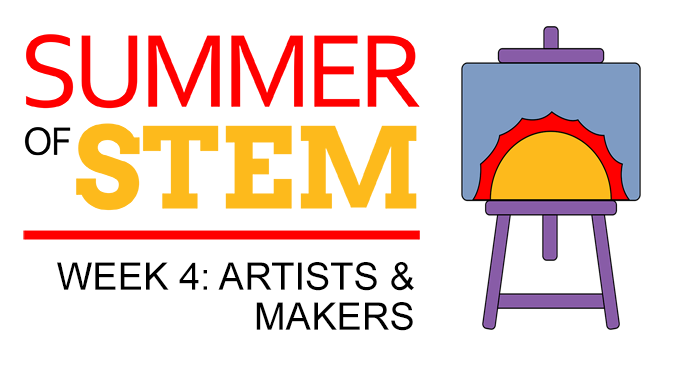 Artists & Makers
Week 4 is for artists, makers, creators, and innovators of all ages! The activities this week are great for kids who like to make art, write stories, decorate and customize items, or invent things! The line between art and science is maybe smaller than kids think, and this week, we celebrate the creative spirit as well as the science and engineering involved in exploring, explaining, and inventing techniques and mediums used to make art.
For kids who love to draw, paint, tell stories, or do craft projects, we have colorful and creative activities they can do to use science to make art. For young makers and inventors, we encourage an appreciation of creativity as an important part of engineering. Creativity has a role in problem-solving, troubleshooting, designing new products, and brainstorming new ideas or ways to improve things.
Tip: This downloadable PDF contains a summary of the ideas for Week 4. Print this out and use it as a check-list for activities you try this week! You can also print and use our simple activity log (PDF) if you want to encourage your younger students to reflect on their activities.
ASK: Science Questions for Week 4
Use these questions to prompt conversation and reflection this week about the science behind the Artists & Makers science activities:
What are some of the differences between art and science?
What are some of the similarities between art and science?
Why would an artist need to understand science? Can you think of an example?
Can you think of an experiment you could do to test and compare two approaches to making your favorite kind of art?
Which science or engineering activity did you try? How did art and science combine in the activity?
What do you enjoy most about science and engineering activities that also involve art?
What kinds of STEM jobs are related to the creative Artists & Makers activities you explored this week?
DO & EXPLORE: Artists & Makers Activities
WATCH: Videos for Week 4
These videos demonstrate activities highlighted for Week 4's Artists & Makers theme:
These videos are not from Science Buddies but tie in with this week's Artists & Makers theme:
EXPLORE with KITS
The following Science Buddies Kits fit in with this week's Artists & Makers theme. These science and engineering kits provide the specialty materials kids need for a variety of fun explorations, including robotics, computer programming, and electronics:
Learn more about Science Buddies Kits and see our 12 Science Kits for Summer Science Experiments and Discovery recommendations.
READ: Books to Pair with Week 4's Artists & Makers Theme
For other great STEM stories for summer reading, see our Book list for science-filled summer reading! post. Also, don't miss this roundup of creative STEM activities for storytelling and imaginative play.
Summer of STEM Posts
Week 4 - Artists & Makers
Categories:
You Might Also Enjoy These Related Posts:
Explore Our Science Videos
Finding Pi Using Everyday Objects
DIY Mini Drone Part 4: Program Drone Steering with Arduino