Mission to Mars: Summer of STEM (Week 9)
Join Science Buddies this summer for virtual summer camp! Each week, we'll have a fun STEM theme for kids of all ages, suggestions for simple hands-on activities, book picks, and more. With our Summer of STEM, we'll keep you and your kids inspired all summer with creative and innovative science and engineering activities — for free. This week: go on a Mission to Mars with space-themed science!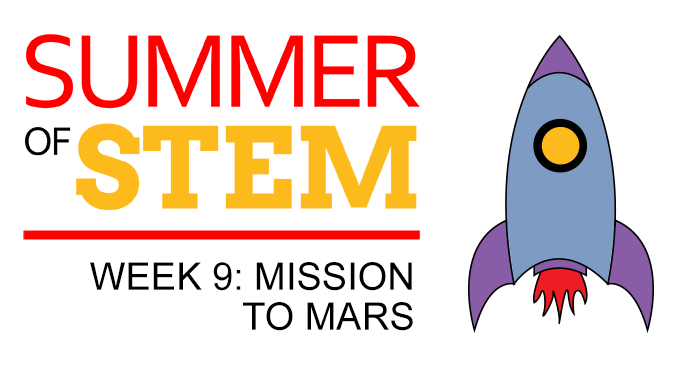 A Mission to Mars with Space Science
On NASA's upcoming Mars 2020 mission, the Perseverance rover will be heading to Mars to collect rock and soil samples. The launch window is scheduled for July 30, with the rover targeted to land on the Jezero Crater on Mars in February 2021. Once on the Red Planet, the Perseverance rover will be spending close to two Earth years exploring the geology of the planet.
The Perseverance rover, which is about the size of a car and weighs more than 2,000 pounds, has 19 camera systems and 7 new instruments that will be used and tested on the mission, including a SuperCam "that can provide chemical composition analysis and mineralogy at a distance"; the Mastcam-Z camera system "with panoramic and stereoscopic imaging capability"; Mars Oxygen In-Situ Resource Utilization Experiment (MOXIE), "a technology demonstration that will produce oxygen from Martian atmospheric carbon dioxide"; and the Mars Environmental Dynamics Analyzer (MEDA) to monitor weather, climate, and dust on Mars. NASA hopes that Perseverance's tools will help pave the way for future human missions.
The Ingenuity Mars Helicopter will also be catching a ride to Mars on Perseverance. Once there, the robotic helicopter, which weighs in at about 4 pounds, will be used to test the possibility of flight on Mars.
(See the links at the bottom of this page for more information about the Mars 2020 mission.)
This week, kids can explore science and engineering related to space science, including rocket science, robotics, and astronomy. With hands-on activities that help kids understand some of the questions and research that will be part of the Mars 2020 mission, this week will inspire kids and help them see science and engineering in the context of real space exploration.
Tip: This downloadable PDF contains a summary of the ideas for Week 9. Print this out and use it as a check-list for activities you try this week! You can also print and use our simple activity log (PDF) if you want to encourage your younger students to reflect on their activities.
ASK: Science Questions for Week 9
Use these questions to prompt conversation and reflection this week about the Mission to Mars — Space Science activities:
How does a year on Mars compare to a year on Earth in duration? (How many days is in a Mars year?)
What areas of science are involved in preparing for and conducting a mission like Mars 2020? Which of these areas interest you? Why?
Why is it important to learn more about the composition of rocks and soil on other planets?
What are some of the challenges engineers have to think about in controlling robotic equipment like Perseverance and Ingenuity from Earth?
Which science or engineering activity did you try? What did you learn?
What kinds of STEM jobs are related to the space science STEM activities you explored this week?
DO & EXPLORE: Rocket Science for Week 9
DO & EXPLORE: Mission to Mars — Space Science Activities
WATCH: Videos for Week 9
These videos demonstrate activities highlighted for Week 9's Mission to Mars — Space Science theme:
These videos are not from Science Buddies but tie in with this week's theme:
EXPLORE with KITS
The following Science Buddies Kits fit in with this week's Mission to Mars — Space Science theme. These science and engineering kits provide the specialty materials kids need for a variety of fun explorations, including robotics, computer programming, and electronics:
Learn more about Science Buddies Kits and see our 12 Science Kits for Summer Science Experiments and Discovery recommendations.
READ: Books to Pair with Week 9's Mission to Mars — Space Science Theme
Tip! Oobleck gets its name from Bartholomew and the Oobleck by Dr. Seuss!
For other great STEM stories for summer reading, see our Book list for science-filled summer reading! post. Also, don't miss this roundup of creative STEM activities for storytelling and imaginative play.
Learn More about the Mars 2020 Mission
Find out more about Mars 2020, the Perseverance rover, and the Ingenuity Helicopter with the NASA links below:
Note for Teachers: You'll find Lesson Plans for some of this week's rocket science explorations linked in the Rocket Science Activities post.
Summer of STEM Posts
Categories:
You Might Also Enjoy These Related Posts:
Explore Our Science Videos
Balloon Car: 2015 Engineering Challenge
Squishy Circuits Classroom Activity Part 1
Two-Stage Balloon Rocket Lesson Plan