Fireworks and Picnics: Summer of STEM (Week 5)
Join Science Buddies each week this summer for fun STEM themes for kids of all ages, suggestions for simple hands-on activities, book picks, and more. We'll keep you inspired all summer with creative and innovative science and engineering activities — for free. This week: fireworks, picnics, and other celebration-themed science activities!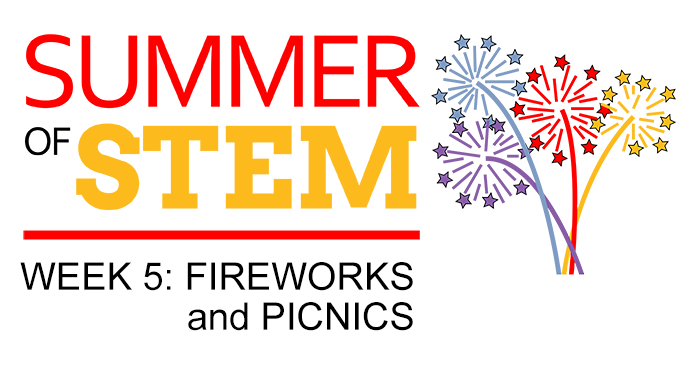 Celebrate with STEM!
Week 5 puts summer celebrations in the spotlight! They may look different this year, but fireworks, picnics, and parades are all common at this time of year, so this is a great week to pair some fun hands-on science and engineering with 4th of July festivities and other popular summer celebrations. This week features a mix of things kids can make or build to join in with celebrations (like musical instruments and noisemakers) — as well as things to make and eat (like ice cream and slushies). Fireworks are an anticipated part of summer for many families. Even if the local fireworks display isn't happening this year, the hands-on "rainbow fire" activity is an exciting way to learn more about what makes fireworks so colorful. This activity is sure to bring lots of oohs and aahs!
Tip: This downloadable PDF contains a summary of the ideas for Week 5. Print this out and use it as a check-list for activities you try this week! You can also print and use our simple activity log (PDF) if you want to encourage your younger students to reflect on their activities.
ASK: Science Questions for Week 5
Use these questions to prompt conversation and reflection this week about the science behind fireworks- and picnic-themed science activities:
What area of science helps explain how fireworks work?
What is your favorite color of fireworks? After this week, do you know what chemical might create that color?
When mixing up summer treats like ice cream or slushies, why do you need salt?
What can you learn about sound from simple homemade instruments?
What happens when vinegar and baking soda combine that can cause small rockets to fly high?
What do your eyes have to do with how you think something tastes?
Which science or engineering activity did you try? What did you learn?
What kinds of STEM jobs are related to the STEM activities you explored this week?
DO & EXPLORE: Fireworks & Picnics Activities
WATCH: Videos for Week 5
These videos demonstrate activities highlighted for Week 5's Fireworks & Picnics theme:
These videos are not from Science Buddies but tie in with this week's theme:
EXPLORE with KITS
The following Science Buddies Kits fit in with this week's Fireworks & Picnics theme. These science and engineering kits provide the specialty materials kids need for a variety of fun explorations:
Rainbow Fire Kit: the Rainbow Fire kit contains four chemicals that can be safely burned to explore the "colors" of fireworks using directions in the Discover the Flaming Colors of Fireworks activity.
Spherification Kit: wiggly juice balls that you make yourself can be a fun addition to your picnic treats! Make your own juice balls and then eat them one by one or add them to a cold beverage for tasty, juice-filled fun! What flavor will you try?
Learn more about Science Buddies Kits and see our 12 Science Kits for Summer Science Experiments and Discovery recommendations.
READ: Books to Pair with Week 5's Fireworks & Picnics Theme
For other great STEM stories for summer reading, see our Book list for science-filled summer reading! post. Also, don't miss this roundup of creative STEM activities for storytelling and imaginative play.
Summer of STEM Posts
Week 5 - Fireworks & Picnics
Categories:
You Might Also Enjoy These Related Posts:
Explore Our Science Videos
4 Easy Robot Science Projects for Kids
How to Make Paper Circuits