Carnival Science: Summer of STEM (Week 1)
Join Science Buddies this summer for virtual summer camp! Each week, we'll highlight fun STEM themes for kids of all ages, including suggestions for simple hands-on activities, book picks, and more. We'll keep you inspired all summer with creative and innovative science and engineering activities — for free. This week: big-top science with fun activities that tap into the spirit of the local fair, circus, or amusement park.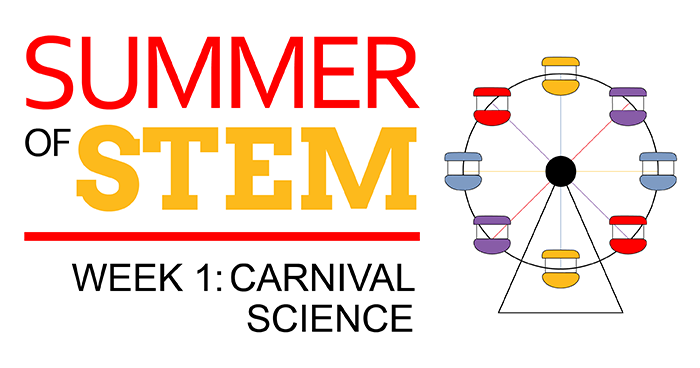 Carnival STEM
Amusement parks and local fairs are a big part of summer memory-making for many families, at least in non-pandemic times. Standing in long lines at amusement parks may be out this summer, but we've got fun science activities you can line up for a whole week's worth of carnival-inspired STEM!
Could kids set up a fun outdoor amusement-park-style event using some of the activities listed here? Yes! From amusement park games to roller-coaster-inspired builds and even some fun with mirrors, this week's Summer of STEM roundup gives you a number of exciting ways to explore carnival-themed science. With each of these ideas, kids can design or build something awesome that can be used as part of a homemade amusement park! (Don't forget to design some fun tickets, too!)
Tip: This downloadable PDF contains a summary of the ideas for Week 1. Print this out and use it as a check-list for activities you try this week! You can also print and use our simple activity log (PDF) if you want to encourage your younger students to reflect on their activities.
ASK: Science Questions for Week 1
Use these questions to prompt conversation and reflection this week about carnival and amusement park science:
What is your favorite carnival or amusement park attraction?
What is one science concept involved in a carnival game or an amusement park ride?
Which science or engineering activity did you try? What did you learn?
What kinds of science jobs are involved in designing and building things like roller coasters or creating amusement park attractions?
DO & EXPLORE: Carnival Science Activities
WATCH: Videos for Week 1
These videos demonstrate activities highlighted for Week 1's Carnival Science theme:
The following videos are not from Science Buddies but tie in with this week's theme:
READ: Books to Pair with Week 1's Carnival Science Theme
For other great STEM stories for summer reading, see our Book list for science-filled summer reading! post. Also, don't miss this roundup of creative STEM activities for storytelling and imaginative play and our 12 Science Kits for Summer Science Experiments and Discovery recommendations.
Summer of STEM Posts
Week 1 - Carnival Science
Categories:
You Might Also Enjoy These Related Posts:
Explore Our Science Videos